Samsung restructuring could remove J.K. Shin as head of mobile
22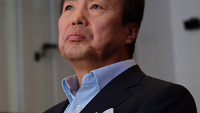 Samsung's current head of its mobile division, J.K. Shin, is in danger of losing the position according to a report published today. Samsung has seen its profits and stock price decline, and the flagship
Samsung Galaxy S5
did not wow smartphone buyers as much as previous iterations of the model had. With Samsung losing market share in the global smartphone market, third quarter earnings were 60% lower than the amount reported the prior year. Additionally, the company sold 40% fewer Galaxy S5 units than expected. For the three months after April, the company sold 12 million Samsung Galaxy S5 handsets compared to 16 million units of the
Samsung Galaxy S4
sold during the same time the previous year.
One rumored scenario has Mr. Shin removed as head of mobile, which also means that he loses his co-CEO title. Speculation has him replaced at mobile by another co-CEO, B.K. Yoon, who currently runs Sammy's appliances and television business. According to those in the know, Yoon would keep his current responsibilities while adding the mobile unit to his portfolio. A third co-CEO, Kwon Oh-hyun, would remain in his current position overseeing components like semiconductors, and displays.
Having home appliances and mobile together under one leader is not so ridiculous. Samsung has been working on ways to integrate home appliances with mobile devices. Mr. Yoon has been a champion of this way of thinking. He currently earns $3.3 million a year compared to the $10.9 million that Mr. Shin will take home this year.
Samsung does have a clear line of succession at the top.
Chairman Lee Kun-hee has had heart related hospitalizations this year
, and his only son, Jay Y. Lee, is expected to be the heir apparent for the top spot at the company.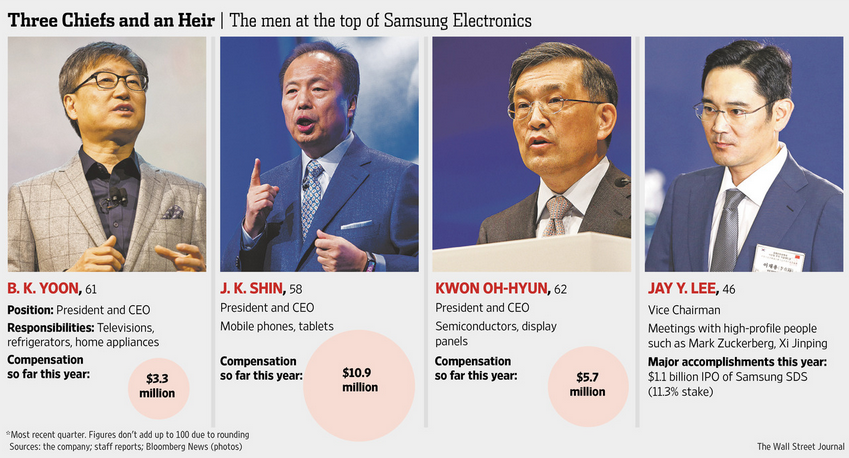 Samsung could be making some changes at the top
source:
WSJ
via
AndroidCentral