It's that time again: Samsung Galaxy Note 5 case renders could be showing us the future
27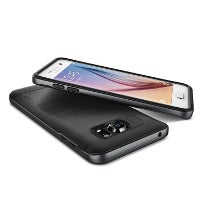 The rumors and leaks campaign around the Samsung Galaxy Note 5 has been going strong for a while now, but what we've been missing so far were professionally made case renders. Thankfully, like last year, casemaker Verus has obliged, and the results can be seen at the bottom. Now, fair warning — while the renders sent in by Verus are supposedly based on real renders of the Note 5 that they obtained, it's nevertheless important to point out that we have no way of confirming this. In any case (heh),
the company was on target with the Galaxy S6 earlier in 2015
, so it is possible that they're right on the money once more.
As can be expected, the Galaxy Note 5 in the renders below is quite similar to the Galaxy S6 that we know, and that makes sense. After all, Samsung is unlikely to significantly alter its new design language, especially given how well the S6 and S6
edge
were received. Where the two differ is the design of the frame — the Note 5's is slimmer on the side, and grows towards the top and bottom — and the presence of the S Pen slot. One of the microphones has also been moved to the left side of the bottom-facing speaker grill, while an infrared blaster is missing from the top frame. As for the rest — button placement, cameras, heart rate sensor and flash — all are identical to what we have with the Galaxy S6.
If we were to make an educated guess, we'd say that Verus got a hold of
these leaked CAD renders
, and did their thing on top of them. Still, if we assume that these are legit, then it's quite possible that this is our first look at a fully fleshed Galaxy Note 5.