It was a Green Christmas for Amazon as Alexa-enabled Echo devices sold extremely well
9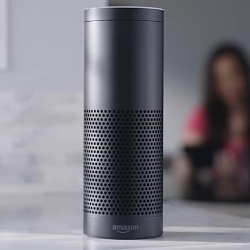 Retailer Amazon is wrapping up a prosperous Christmas shopping season with sales of its Echo devices up 9 times over last year's figures. Overall, Amazon had its best Christmas ever led by devices like the Echo Dot, Fire TV Stick, Fire tablet and the Amazon Echo; all of these products ended up on the company's best-seller list during the holiday shopping season.
Mobile sales continue to play a bigger part in the company's holiday sales every year. In 2016, 72% of Amazon customers used a mobile device to make some purchases over the holiday season. Shopping on the free Amazon app rose by 56% year-over-year, and on Cyber Monday, 46 electronic devices were ordered every second using a mobile device.
The Amazon Echo devices allow users to activate Alexa by voice. The old gal lives in the cloud, ready to give you information about the weather, sports scores, news and more. And that is barely touching the surface. In fact, during the holidays:
Alexa helped mix hundreds of thousands of cocktails this holiday season with Tom Collins and Manhattans being the most requested drinks from skills like The Bartender, Mixologist and DrinkBoy.
Chocolate chip and sugar cookies were the favorite recipes from Alexa skills like Food Network and Allrecipes.
Home Alone and Elf were the most requested holiday movies with Alexa.
Alexa helped play millions of holiday songs this year, and the top songs were Jingle Bells (1999 - Remaster) by Frank Sinatra, All I Want for Christmas Is You by Mariah Carey and Feliz Navidad by José Feliciano.
What was Alexa asked to cook? The most popular cooking tips requested on Christmas Eve and Christmas Day were turkey, prime rib and chocolate chip cookies.
Who played the most holiday music with Alexa? Customers in Seattle, New York and Chicago asked "Alexa, play holiday music" more than any other city in the U.S.
Who turned on Christmas Lights the most with Alexa? Customers in Seattle, San Diego and New York asked, "Alexa, turn on Christmas lights" more than any other city in the U.S.
What games were the most requested with Alexa this holiday? Alexa entertained families with popular games like Jeopardy!, Twenty Questions and The Magic Door.
Amazon has some competition in this space with the
Google Home
. Microsoft will also offer its own Echo competitor next year, powered by Cortana. It will be sold in a housing that includes Harman Kardon speakers. Microsoft clearly hopes to use premium sound quality to differentiate its product from the others.
Still, Amazon has a time advantage having been first to market, and it continues to add third party features. With the competition from Google and Microsoft, Amazon apparently won't even get a second to savor the success of Echo as it continues to work on giving Alexa more capabilities for 2017 and beyond.
"Echo and Echo Dot were the best-selling products across Amazon this year, and we're thrilled that millions of new customers will be introduced to Alexa as a result. Despite our best efforts and ramped-up production, we still had trouble keeping them in stock. From turning on Christmas lights and playing holiday music to shopping for gifts and asking for help with cookie recipes, Alexa continues to get smarter every day. We couldn't have made this holiday season possible for customers without the dedication and hard work of our customer service, transportation, and fulfillment associates along with our carrier partners – it's amazing to see the teams come together to serve customers during the holidays. On behalf of Amazonians all around the world, we wish everyone happy holidays and the very best for the coming year."-Jeff Wilke, CEO Worldwide Consumer, Amazon
source:
Amazon
via
SlashGear