Appellate court temporarily suspends temporary injunction on the Galaxy Nexus (Update: now on sale)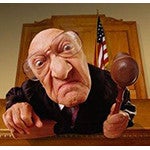 Update: Just a little while ago the Google Play Store put the GSM Galaxy Nexus back on sale, listed with a shipping time of 2-3 weeks.
Samsung and Google got a reprieve heading into the weekend, as a Federal Appeals Court has rescinded Judge Koh's preliminary injunction, at least for now. After being unable to convince Judge Koh that the Galaxy Nexus should not be put under injunction for the duration of the trial (a fairly extreme step in U.S. patent litigation), the injunction
went into effect
a couple nights ago.
Samsung appealed the ruling to a higher court, who has concluded that Samsung has at least a reasonable chance of getting the preliminary injunction overturned, and so has lifted the injunction until the court can rule on it sometime next in the next two weeks. Of course the appellate court could ultimately decide against Samsung, which would make this an on again, off again, then on again injunction that would leave Koh's original ruling in effect until the trial concludes (and a final determination is reached). Since Google apparently has a
work-around solution
ready for launch with Jellybean-laden Galaxy Nexus units as early as next week, even a few extra days of availability could mean that there is no more downtime in sales.
Apple has until the 18th to file a response to Samsung's appeal, although we imagine that Apple will want to file its response as soon as possible, since winning sooner means they stop sales sooner, and losing leads to the same situation regardless of timing.
As of right now the Galaxy Nexus still say "Coming soon" in the Google Play store, but we imagine that will change in the coming hours (or days?).
source:
Court ruling
via
The Verge