Is this the next-gen BlackBerry Curve?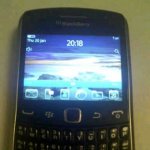 Check out this picture of what could very well be a future version of the BlackBerry Curve smartphone from RIM, which was previously said to be codenamed the BlackBerry Sedona.
The leaked photo shows that this device closely resembles the style of past iterations of RIM's popular smartphone, but the word is this version will pack more of a punch.
Now take all of these specifications with a grain of salt, given that nothing about this phone is official. Running the show apparently is BlackBerry OS 6.1. Furthermore, it is said to have 512 MB of RAM. Processing speed remains a mystery, but the screen resolution is also rumored to be getting an upgrade over the current model, possibly in the range of 480x360. If there is any truth to that screen resolution it would definitely be an improvement, albeit one that falls short of the smartphone heavyweights of the world.
After you check out the photo tell us what you think in the comments below.
source:
N4BB
via
Mobile Crunch