Is this the iPhone 5? Nah, but it's the best fake we've seen so far
25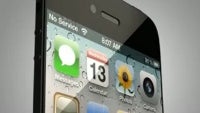 Okay, hold your breaths, clean your glasses and watch carefully... this may not be the iPhone 5, but it's the best fake we've seen so far. It's more than just a picture – it's a whole video claiming to be recorded from Apple's Swiss website, where the iPhone 5 page has been supposedly put on the web and accessible via a hidden link. Ridiculous? Yes. But wait until you see the skill and time invested in this footage – it includes a whole gallery of pictures allegedly showing the next-gen iPhone, but also a separate page listing its full specifications including a
dual-core A5 chip
and an
8-megapixel camera
capable of 1080p video recording at 30fps.
The video also claims that the phone will come in black and white from day one, with two versions – one sporting 32GB of memory while the other with 64GB. When it comes to the design, it has been made to look
ridiculously thin
at 0.24 inches (6.2mm), while its weight stands at 3.95 oz (112g).
But looking closer you'll notice a couple of tidbits – besides the crazy assumption that Apple might just put the next iPhone on the web like this – whispering that
this is fake
. In the very first frames of the video, the address bar spoils it all as you can notice a local address file:// address. But there's also the suspicious "No Service" label along with the time set at 8:07, while Apple traditionally uses 9:41.
The display is once advertized as a 4" screen, while later in the spec sheet it's listed as 4.2" inch. Finally, even the names of the gallery pictures are in English instead of German as you'd expect for the Swiss website. So yeah, it most probably is fake, but hey, the author has gone to such lengths to counterfeit this, that he seems to have well deserved a mention and your attention for the video below.