Is there a future for a BlackBerry device with a physical QWERTY keyboard
73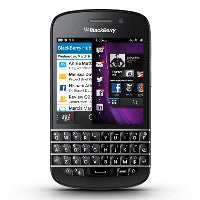 Last week RIM... um,
we mean BlackBerry
, introduced its long, looong-anticipated BlackBerry 10 handsets - the
Z10
and
Q10
. The more interesting model of the two is the Z10, of course, as it is a full touchscreen handset, and we all know that full touch is all the rage right now, and will probably continue to be for the foreseeable future. That said, the Q10's presence at the event remained somewhat unnoticed, as all the attention was directed at the Z10.
This brings us to the question: Is there a future for a BlackBerry device with a physical QWERTY keyboard? You've probably heard BlackBerry CEO Thorsten Heins repeat again and again that BlackBerry has a very loyal following, which demands the full, physical QWERTY experience, but it seems that if BlackBerry continues to serve its small and loyal following, it will be destined to remain a small, niche player. However, choosing not to serve its following would of course be quite risky, because there isn't any guarantee that its full touch phones will gain the needed traction in order to keep the big, Canadian ship afloat. That is why the company is now trying to satisfy the needs of both its loyal fanbase and all the customers out there who just want a device with a large touchscreen.
Whether BlackBerry will be successful in this game remains to be seen, but at least from our standpoint, it's extremely easy to say that there's little to no interest in the BlackBerry Q10, at least compared to the new Android or iOS handsets. So, is it worth it for BB to go trough the trouble of producing such handsets? Maybe yes in the short term, while there are still enough QWERTY lovers out there, but it doesn't take a genius to know that this market will soon become so small that BB will be forced to put all of its effort into making full touchscreen smartphones. However, we aren't sure if it won't be a better move to just get rid of the QWERTY and start working on a serious, promising touchscreen product. The Z10 is OK, it closed a big part of the gap between BlackBerry and all the other smartphone manufacturers, but it's nowhere near what the company needs in order to seriously compete with Android and iOS.
Let us hear what you think, guys. Should BlackBerry continue pumping those QWERTY phones into the pipeline, or that form-factor is now a thing of the past?