Is it a condom or is it Android: a working theory for phone makers
19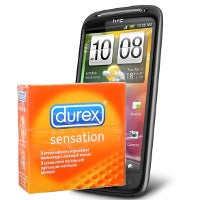 Android, the land of the free and the home of the... most hilarious phone names you'd find. Okay, often they're just an absurd combination of seemingly random words. Take the Samsung Galaxy S™ II, Epic™ 4G Touch, how's that for a tongue-twister? Or, what about the Sony Ericsson Captivate Slide 4G+? We kid, the last one doesn't even exist, but it sounds real even for the trained ear.
So where are all those random names coming from? One would think it's the creative staff over at Samsung, HTC and the rest of Android phone makers that spends long hours picking through names, but here's another theory. What if phone makers
just looked at names of condoms and used them
as an inspiration to name their Android creations?
Does this theory hold any ground? No. Is it funny enough to try and make it work? Definitely. You'd find the amount of coincidences staggering. Check out the table below and think about this next time you pick up your phone. Weird, right?