Is buying a Chinese smartphone a good idea? We lived with the UMi Zero Android smartphone to find out
32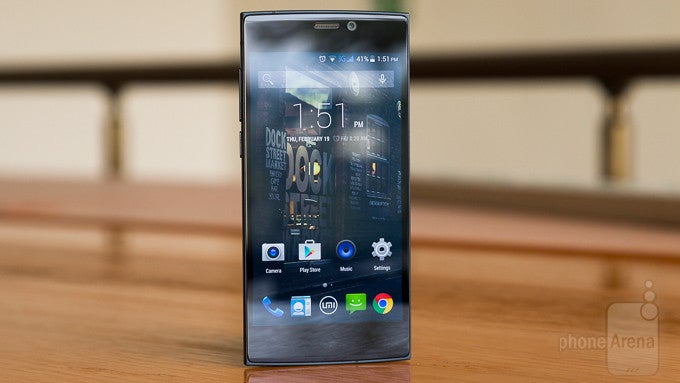 If you take a good look around the back of any electronic device, chances are you'll come across a label that says "Made in China". This goes for anything from your toaster or microwave to your TV, stereo, and, of course, your smartphone or tablet. For example, while iPhones and iPads are designed in the U.S., most of them are actually built by Chinese workers in a Chinese factory. Even electronic gadgets made elsewhere, according to their label, have components sourced from a Chinese manufacturer inside of them.
However, you'd be wrong if you assume that Chinese electronics companies are only good at manufacturing components and at building others' products. Huawei, Lenovo, and Alcatel, to name a few, have been selling their own original hardware throughout Europe and the U.S. for a pretty long time. Yet the subject of this article they're not. What we're about to bring your attention to are the lesser-known Chinese smartphone companies, as well as the pros and cons of buying devices straight from China.
We were inspired to write this post by the skyrocketing number of ambitious Chinese companies selling seemingly great smartphones at highly aggressive prices. Xiaomi, Meizu, Gionee, and IUNI are just some of these exotic brands practically unknown to the western consumer, except to the followers of our
"Monsters from Asia" series
. Their phones, as unpopular as they are, promise outstanding value for money, which makes them a tempting buy. We could not resist buying one either – the promising mid-ranger known as the UMi Zero – although honestly, we think we should have tried harder.
Not all Chinese phones are made equal
Firstly, we have to make one thing clear – this post is not about drawing general conclusions about Chinese smartphone brands as a whole. That's because not all Chinese phones are made equal, and there's a number of Chinese companies designing their hardware with attention to quality. But there are also the replicas and white-box, no-name phones, which are best avoided.
Replicas are phones mimicking the design of a well-known model, such as an iPhone or a Samsung Galaxy phone. On the inside, however, ticks hardware of much lower grade, which is one of the reasons why fakes are several times cheaper than the real deal. Galaxy S5 and iPhone 6 knock-offs, for example, can be bought online for about $100 apiece. White-box phones – those generic-looking handsets with little or no branding whatsoever – fall into the same price category.
Of course, we can't stop anyone from willingly buying a knock-off or a no-name phone. After all, they are dirt-cheap and they do work, albeit poorly. But it should go without saying that knock-offs can't be expected to have the build quality and reliability of a genuine phone. Chances are you'll end up getting what you paid for, as the old saying goes.
But why would anyone want a Chinese phone anyway?
That's an excellent question, and the answer is actually quite simple. Cost is one of their greatest advantages – many of the aggressive Chinese brands that have sprouted over the past few years offer phones with great specs at competitive prices. To give a few examples, the IUNI U3 offers a 5.5-inch 2K Quad HD display and a Snapdragon 801 SoC, the Meizu MX4 rocks an octa-core SoC and a 20.7-megapixel Sony camera, while the Vivo X5 Max makes heads turn with its extremely slim, 4.75-millimter-thin body. All these phones cost under $400 unlocked.
As for the UMi Zero that we bought, it was on sale for $200 when we purchased it – definitely a hard-to-resist bargain considering the specs. To highlight some of them, the Zero has a 5-inch, 1080 by 1920-pixel Super AMOLED display made by Samsung. Its MediaTek-made SoC features a 2.0GHz octa-core processor and is backed by 2GB of RAM along with 16GB of storage. On the back there's a 13MP camera based on a Sony IMX214 sensor, and an 8MP shooter (yes, eight) is in the front. All of this and more goodies are packed in a 6.4-millimeter-thin body made of aluminum and Gorilla Glass 3. Adding more value to the purchase, UMi also throws a protective case, a flip case, and a couple of screen protectors in the box.
Furthermore, the UMi Zero comes unlocked, just like any Chinese brand's phone not sold by a carrier. This makes it compatible with GSM networks worldwide (with some limitations which we'll cover in a bit). And if that's not enough, the Zero is a dual-SIM device, allowing the user to have two SIM cards on stand-by simultaneously. In fact, dual-SIM support is a prominent feature among Chinese smartphones and can be found on models of all tiers.
So, who do I throw my money at?
Not so fast, cowboy. Before you even consider buying a phone from a not-so-popular Chinese brand, you have to take a few things into account. One of them is that the truly exciting Chinese smartphones can be hard to find – as awesome as they are, specimens like the
Xiaomi Mi 4
and the
Meizu MX4 Pro
probably aren't on display at your local electronics store. And ordering online may not be as elegant of a solution as it seems.
While online retailers, Amazon included, do have some decent Chinese smartphones in stock, some models have to be ordered straight from China, either because it is cheaper that way, or because the device in not available elsewhere. And since China is a pretty faraway place, free shipping tends to take a while. Think weeks to a month, depending on where in the world you live. Thankfully, pretty much every online store has faster and safer shipping options for its impatient customers. It is going to cost you a few bucks, however, and once the parcel arrives, it might be subject to taxes and customs fees, depending on your country's laws. Keep these extra expenses in mind when ordering.
Network compatibility is another issue you might run into. In fact, imported Chinese phones may not work with your carrier at all. Sprint and Verizon, in particular, use CDMA technology to provide their wireless services, which makes it next to impossible to use a phone you didn't buy from either carrier on its respective network. Even if your carrier's network is GSM-based (think AT&T, T-Mobile, and European carriers), you should still ensure that the phone you're buying fully supports your carrier's cellular frequencies. If it doesn't, you'll be getting poor coverage or absolutely no 3G/4G service.
Another thing to be aware of is that not all Android smartphones have Google's apps and services pre-installed. In other words, a handset may not come with Gmail, Google Maps, Google Drive, YouTube and the Google Play store if you import it from China. Although it is possible to install these apps manually, the procedure can be tricky to perform.
Ultimately, are Chinese phones worth bothering with?
That's a question we can't answer with a simple "yes" or "no" as it depends on quite a few variables. What the buyer ends up paying is one of them. If your carrier is already providing you with a a top-of-the-line smartphone in exchange for $200 bucks and a long-term contract, there's little to no good reason for you to buy a Chinese smartphone no matter how cheap and/or powerful it is. But for quite a few smartphone users worldwide, this simply isn't the case, which is why more and more people turn to Chinese smartphone companies in search for more bang for their buck.
Nevertheless, buying a smartphone from China can be a treacherous endeavor, and not only because of the cons we highlighted above. You see, there's always the risk of not getting exactly what you expected, and we shall explain ourselves by referring to the UMi Zero.
At first, the UMi Zero didn't seem like a terrible phone at all. It had great specs, it looked impressive in the images we saw online, and it was very reasonably priced. Once we got it, we were pleased by the design, by the sharp display, and by the adequate battery life. But the phone had fundamental flaws which became quickly apparent once we started using it as a daily driver. While the Zero did have a 2GHz octa-core processor and a lot of RAM, it was still laggy and choppy at times. The proximity sensor often failed to do its job properly, its vibration motor was absurdly weak, and the coating on our unit's metal frame developed signs of wear in a matter of days. On top of all that, random reboots and SIM card errors occurred frequently on our UMi Zero even after we updated its software (which was a manual process, by the way).
But as we stated earlier, not all Chinese phones are made equal. Quite a few phones from lesser-known companies have passed through the PhoneArena office, and many of them have turned out to be awesome. In fact, some of us here are extremely pleased with Xiaomi's awesome handsets, which goes to show that lesser-known Chinese brands should not be underestimated. You just have to do your homework before committing to one. That said, make sure you read a trustworthy review if you ever consider ordering a Chinese smartphone from a local retailer or from overseas. Also, always take shipping and fees into account, make sure whatever you're buying will run on your carrier's network, make online payments over secure methods only, and don't fall for deals that are too good to be true.