Is Verizon carrying a Torch for BlackBerry?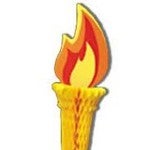 A source, working at a Verizon store, has sent us photographs of a poster that
allegedly
shows Big Red's version of the BlackBerry Torch. Unfortunately, the Verizon name or logo is nowhere on the poster, but we have
reported
that a version of the handset is expected to come to the carrier early this year.
The BlackBerry Torch is currently available in the U.S. exclusively through AT&T which had been counting on the device to pick up some of the business that the carrier thought it might lose to Verizon once the latter was able to offer the Apple iPhone 4. The Torch also introduced the BlackBerry OS 6 and a new WebKit based browser to BlackBerry users. RIM was hoping that the Torch would be a handset that could compete with Apple's touchscreen device and with Android handsets. However, plagued by a display with resolution that was considered acceptable two years ago, sales never took off.
RIM is
currently working on a BlackBerry Torch 2
with an improved VGA screen and a blazing fast 1.2GHz single-core processor. It is not clear if the version of the Torch possibly heading to Verizon will be the sequel model of the Torch.,
Thanks, Jonathan Z!