Is Motorola planning another laptop dock for the next Moto X?
15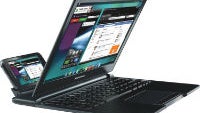 The
Motorola Atrix 4G
with its
lapdock
accessory was the definition of ahead of its time. Mobile hardware wasn't ready to power a laptop experience and Android was nowhere near ready for the big screen. In the years since that failure in 2011, the technology has come around, as proven by the
Asus Padfone
as well as
Windows Continuum
efforts. Now, there's a chance Motorola may be making another attempt.
Earlier today,
proper leaks came out
showing what the next Moto X and Droid devices and some eagle eyes noticed that the phones have a set of 16 gold pins along the bottom of the back side of the devices. These are very suspicious because they definitely point to some sort of dock connector coming along with the new Moto handsets. It could be something as simple as a dock charger, but 16 pins seems like a lot for something as simple as that, and pins for charging are usually found on the edge of a device, not along the back. The more interesting theory is that the pins would work by docking the phone into a tablet or laptop.
Manufacturers are trying to find keep up sales by finding ways to offer new experiences that extend the use of a smartphone. LG has its new "friends" lineup of swappable accessories, so it wouldn't be terribly surprising if Lenovorola has a similar idea for the new Moto devices. Unfortunately, the announcement of the next Moto X isn't expected until late August, so we may have a while to wait before finding out.