Is Chrome OS coming to tablets?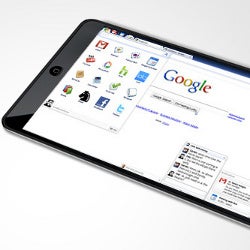 Some minor changes to the code ofChrome OS, Google's take on cloud-based netbook operating systems,hint at an interesting push in the development of the operating system. Could it be that Honeycomb,which without a shadow of doubt remains Google's main focus intablets, will be joined or replaced by Chrome OS Touch version?Here's the hard evidence present in Chrome OS code so far:
- Google has changed a user-agentstring for "websites that are already customizing for tabletexperiences." In addition, all touch-optimized adjustments are to use the name "CrOS Touch" instead of just "CrOS."
- A new tab page will be used for Touchoptimized Chrome OS, making it possible to quickly rearrange andmanage apps.

- An on-screen virtual keyboard was added.
We've seen Google bring up conceptChrome models and videos for tablets, and we've heard rumors of cloud-based music services in the latest versions of Android. Will it be apartial integration with Honeycomb or a separate touch platform -that remains a guessing game. Whatever it is, though, we'll know more about it soon, but in the meantime,let us know what's your prediction!
source: ChromeOSSitevia Le Journal du Geek (translated)