What would the Google Chrome OS look like in tablet form?
7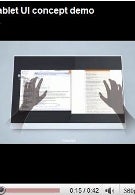 Now that Apple has apparently legitimized the tablet form factor with the iPad, it looks like the latter might find itself in a challenge with Google's Chrome OS. One of Google's developers who worked on the OS, Glen Murphy, has put together a video of what the OS would look like on a Google Tablet. Pictures of the tablet were posted on the Chromium site which is not an official Google mouthpiece. But since Murphy did put together the mock-ups and the video, there is a good chance that a Google Tablet using the Chrome OS would look very similar to what you are seeing.
Unlike the iPad, there could be multiple manufacturers making a "Google Tablet" as the Google Chrome OS won't be used by just one company. The Mountain View based firm would keep an eye on the hardware companies to make sure that any Google Tablet lives up to certain specifications. Just like the Nexus One is called the "Google Phone", one hardware company's tablet might end up being labeled the "Google Tablet". Again, this is merely a mock-up, but it sure looks like something that we could find very useful.
source:
TheChromiumProjects
via
theChromesource