Iron Man, not Robert Downey Jr, already used by LG for phone ads
11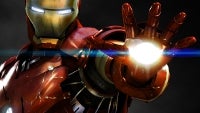 While
HTC has just put a lot of dough in Robert Downey Jr.'s bank account
to be the face of the
Happy Telephone Company
,
Hot Tea Catapault
, Hipster Troll Car Wash, that doesn't include the use of his most famous movie character. In fact, you might remember that the Iron Man franchise has been used twice by Korean manufacturer LG to promote two of its phones in the U.S.
The first ad, which came out early in 2008 when the first Iron Man movie was released, was for the original "iPhone Killer," the
LG Voyager
. Many of you might not remember the phone, which was Verizon's answer to the Apple iPhone. It was the first feature phone to offer an
HTML browser
. The handset included a physical QWERTY keyboard inside a clamshell form factor, and featured two 2.81 inch screens. For a few extra bucks a month,
the LG Voyager let you access live television from VCAST mobile television
.
The second ad, released to promote Iron Man 2 in 2010, was for the Android flavored
LG Ally
. Actually, it is a pretty funny ad and highlighted many of the things that the phone could do in a very unique way.
Mobile phones have come a long way since both of these handsets were released. But have the ads kept up? Check out the LG Voyager and LG Ally ads and compare them to what we see on television for current advertisements and then drop us a line in the box below.
source: YouTube (
LGVoyager
|
LGAlly
)