Iris scanners to become more prevalent in smartphones; feature will drive a rise in mobile payments
23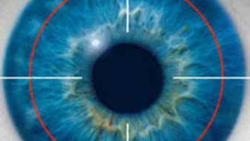 One of the features that the
Samsung Galaxy Note 7
is known for is its iris scanner. The phone isn't the first to offer one, and according to a new report from ABI Research, it won't be the last. In fact, by 2021 ABI says that 300 million smartphones will be shipped carrying an iris scanner. The advantages over the ubiquitous fingerprint scanner include the ability to unlock the phone, or verify a mobile payment ID without touching the device.
Marina Lu, Senior Analyst at ABI Research, says that iris scanning will help drive the implementation of mobile payment services by making the process more seamless. "We find that users are still wary to rely on mobile payments due to security concerns, but iris scanning will help drive future mobile payment adoption," she said.
The Fujitsu Arrows NX F-04G was the first smartphone to carry an iris scanner. The phone was introduced in March 2015. The
Microsoft Lumia 950
and
950 XL
were next, followed by the Nubia Prague S. HP's Windows 10 Mobile powered
Elite x3
also comes with this feature. There already is talk that
Apple will include an iris scanner with the 10th anniversary iPhone
to be released in approximately a year from now.
ABI's Lu says that iris scanners will eventually become more popular than fingerprint readers. And while the feature can be found right now on high-end devices, eventually less expensive models will employ them as well.
"At the moment, iris scanning is complementary to the more mature fingerprint scanning. However, we expect iris scanning to gain more popularity due to its higher stability and less susceptibility to external damage. Though iris scanning is geared toward high-end models now, we predict that it will be available in less expensive smartphones in the long run."-Marina Lu, Senior analyst, ABI Research
source:
ABI