Investors suing Microsoft over "false and misleading" Surface RT info
11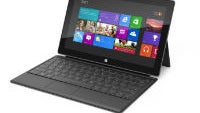 At this point, it's no secret that the Surface RT tablet has been a mess for Microsoft. Sales have been bad, and Microsoft ended up having to take a
$900 million write-off
on its earnings because of Surface RT inventory that never sold. The thing is that Microsoft didn't make the situation seem so bad, and that has caused some problems with investors.
New York law firm Robbins Geller Rudman & Dowd LLP has filed a class action lawsuit against Microsoft claiming that the company made "false and misleading" statements about the Surface RT between April 18, 2013 and July 18, 2013. The lawsuit says that Microsoft knew that RT sales were bad, and that its financial performance would be taking a hit, but purposefully mislead investors.
We can't say how the lawsuit will turn out, but the fact that the lawsuit exists isn't really much of a surprise. The general consensus was that the Surface RT was a bomb, and whether or not Microsoft did mislead investors, a product with high costs and low demand is bound to anger investors especially considering the
hit that Microsoft stock took
as a result of the earnings report.