International version of the Samsung Galaxy A9 Pro gains certification
10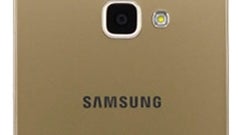 Towards the end of March,
Samsung unveiled
the
Galaxy A9 Pro
. A phablet boasting a 6-inch display, some of its specs echo those of flagship-level handsets—4 gigs of RAM, Android 6.0.1 Marshmallow and a mammoth 5000 mAh battery capacity. The WiFi Alliance (WFA) has now granted certification to a Samsung SM-A910F, which is thought to be an international version of the pre-existing (SM-A9100) model.
The Galaxy A9 Pro includes Qualcomm's Snapdragon 652, a powerful chipset that generally offers smoothness and efficiency through most day-to-day tasks. It's not a cutting-edge performer like the Snapdragon 820, but the A9 Pro's appeal is about more than just the SoC. The 6-inch, 1080 x 1920 display is bigger (albeit lower-res) that of the
Note 5
, while the 5000 mAh battery is considerably larger than the juice pack of most other smartphones. Elsewhere, buyers can expect a 16-megapixel main camera with autofocus and 32 GB of expandable storage.
The device began life out in China two months back, and could soon spread its wings beyond Asia. The WiFi Alliance's rubber-stamping of the device—in single and dual-SIM variations—indicates that a launch could be imminent, though precisely which markets will be seeing the device is up for debate. It's also worth mentioning that while the Galaxy A9 Pro in China packs the aforementioned Snapdragon 652, its plausible that the international variant will include one of Samsung's own Exynos chipsets.
Retailers in Poland have reportedly begun taking pre-orders for the A9 Pro, so there's reason to believe that parts of Europe will soon receive this handset. There's no word, as yet, on if or when the device may reach the United States.

Would you be tempted by the Galaxy A9 Pro if it made its way to a store near you? Do share your thoughts with us in the comments.