Intel's lead in semiconductors could be challenged by Samsung
12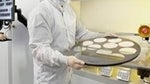 "The overall competition landscape will change as the boundary between CPU and AP blurs, with Intel trying mobile chips, and the performance of ARM-based APs improving to the level of CPU ... That indicates
Samsung
's ultimate target could be Intel and Qualcomm."-Greg Nho, HMC Investment & Securities.
Intel is the undisputed leader in semiconductors, but because its dominance includes 80% of the slower growing computer processor market, it leaves open the possibility that another company could overtake Intel as 'King of the Chips'. That could be Samsung. While growth in the Mobile Applications Processor market, where Samsung lives,
is seen growing at 40% a year through 2014
, Computer Processor growth will be in the single digits. According to NH Investment and Securities, by 2014 the Mobile Applications Processor market will have jumped fourfold to $33 billion while the Comuer Processor market will shrink by more than 10% to $34 billion. And while that is good for Samsung (and Qualcomm and TI), it is bad news for Intel which has yet to make anything close to a dent in the mobile market.
Intel has seen the launch of the
first smartphone to use its Medfield processor in the Lava International Xolo X900
which was released in India. Lenovo and
Motorola
both plan on building smartphones with Intel inside, but the chip maker is
well behind leaders like the Samsung Exynos processor and the Qualcomm Snapdragon
.
"It's premature to forecast who will be the winner or if Intel's entrance will pose any substantial threat to the ARM camp, given that ARM architecture is unarguably ahead of (Intel's) x86 APs in power consumption, while production costs are also lower."-Nomura Securities
The $311 billion semiconductor industry is no longer led by PC's and laptops. Now, it is smartphones and tablets that are running the show. In an example of this, Samsung, which is the leader in memory chips for computers, is converting some production from those memory chips to logic chips used in mobile devices and will spend $2 billion for a new logic chip plant in South Korea where the company is based. And now the Intel-Microsoft combination which for years was the choice for PC makers, is being threatened by the Redmond based software giant's decision to offer ARM based tablets running Windows 8. The scary thing for Intel is that this could suggest that
ARM based processors could be eventually used in PCs
, eliminating the need for the chip that provides the lion's share of Intel's revenue.
Can Samsung catch up and overtake Intel? Last year Intel sold $48.7 billion in chips, about $20 billion more than Samsung sold according to iSuppli. How can the Korean based tech titan pass Samsung? At least one analyst says it would require a huge growth in Samsung's memory chip sales and a stumble by Intel. Mike Howard, an analyst at iSuppli, says that while Samsung could have trouble growing its share in memory chips, he sees Intel having to form a major alliance long term to hold off Samsung. If Samsung does have one disadvantage, because it produces smartphones and tablets as well as the chips inside, some producers of mobile devices might not award business to them.
"Catching Intel would require significant growth in memory market share along with an Intel stumble. While there are challenges for
Samsung
to continue to grow market share in memory (chips)... I would anticipate a major alliance, long-term, between Intel and another major memory company to rival
Samsung
."-Mike Howard, iSuppli.
Another battle will be in the manufacturing process. Samsung expects to produce 14nm and 20nm Exynos chips next year while Intel is spending $5 billion to build a factory in Chandler, Arizona to manufacture 15nm chips. And that sus up the whole semiconductor picture. With Intel and Samsung battling for supremacy of the semiconductor market, it is the end user that will benefit from the smaller and faster chips being made.
source:
Reuters
Recommended Stories