Lava Xolo X900 is the world's first Intel-based smartphone, arriving on April 23rd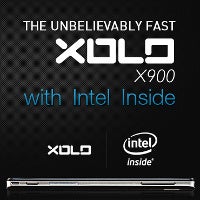 We've been waiting for the first Intel-based smartphone to hit shelves in the coming couple of days, but we weren't sure what would it be, and now it's all confirmed and clear. The
Lava Xolo X900
will be the first phone featuring Intel's Medfield platform and the Atom Z2460 processor. The Xolo X900 is slated to arrive in India on April 23rd, and is set to finally answer all questions about Intel's attempts to make its way to smartphones.
The first question it answers right away is with price - the handset looks
aggressively priced
at $424 (22,000 Indian rupees). We hope such a low price can translate to other Intel-based smartphones.
What everyone will be looking at, of course, is the
1.6GHz single-core Atom processor
that brings Intel' hyper threading technology, and should be competitive with the industry's ARM dual-core designs, and possibly even the newest quad-cores. There's a dedicated 400MHz graphics core included on the Xolo X900, another thing we're curious to see perform. But while we've already seen some preliminary and very impressive benchmarks of the chip's performance (we hope there are no surprises there), we're yet to see how power efficient Intel chips have gotten and are they competitive with ARM architectures in terms of battery drain.
The handset runs on Android
2.3
Gingerbread, but that should change soon via an OTA update to Ice Cream Sandwich. It packs an 8-megapixel camera that promises impressive speeds - up to 10 images in burst mode and under a second. The Xolo X900 sports 16 gigs of internal memory, NFC support and 1GB of RAM.
The battery life is said to be 5 hours of 3G browsing, 45 hours of audio and 8 hours of talk time. Check out the images and stay tuned - all benchmarks and tests should start surfacing very soon.