Intel is pushing wearable ideas, and the concepts are pretty cool
5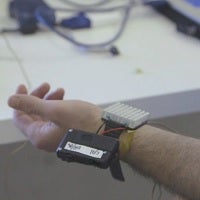 Intel is making a big push into wearables, where it can be argued that no one system rules the roost just yet. This gives the chipmaker an opportunity to encourage developers to bring a new vision to wearables, not just how they might interact with our smartphones, or with us, but with everything in general.
It follows the "internet of things" motif you have probably been reading a lot about over the past year. Think of it as wearables for everything. At the
Intel Developer Forum
last month, the company announced a new series of CPUs, Dell announced the new
Venue 8 7000 Series
which will be the first to use
Intel's RealSense
image processing, and Intel made sure everyone knew that it was planning to be on the inside of a lot of wearables in the future.
To bolster developer interest in this initiative, Intel has been holding a
Make it Wearable
contest, the finalists of which have been announced over the past couple weeks. The teams will be presenting their prototype designs at a finale event in San Francisco on November 3rd.
There are 10 finalists, of which, 8 have video previews of their developments. Of the two that do not have a video preview (yet), the first is Team BABYBE, which is building an "emotional prosthetic" designed to connect mothers and their premature baby in a NICU environment. The second is Team VUMBL, which is a sports and activity necklace that will monitor information from the body, and relay to the user via touch.
The rest of the ideas span the spectrum from pregnancy health, to modular smartwatchs, to wearable drones, an even a wearable personal thermostat. As you might imagine, all these devices use Intel chips as the control platforms, and the winner of the
Make it Wearable
competition will receive a handsome cash reward. Which one do you want to win?
source:
Intel