The Dell Venue 8 7000 Series tablet up close
11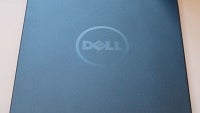 Dell announced a sleek new tablet at the Intel Developer Forum today in San Francisco. Among the highlights of this Android powered tablet, other than it being managed by Intel silicon, is a 3-lens, 3D camera set-up on the back which features Intel's RealSense picture processing technology.
The 7000 Series is also touted as the world's thinnest tablet, just 6mm (under a quarter-inch) thick. The new tablet also packs a 2K resolution OLED display. We got to get up close with the new Dell, but were not permitted to go full hands-on as they were all pre-production devices with incomplete software builds. The interface looks largely stock, however.
Design
The 7000-series is a squared off, very thin tablet. In fact, everything about the tablet is thin, the bezels are also quite well contained along three sides of the display. There is very little wasted space, only the bottom gives way to body work, housing front facing stereo speakers, a front facing camera, and it will certainly serve as a handy point to hold the tablet.
The Dell Venue 8 7000 Series is built on a metal chassis and it is only 6mm thick (under 0.24-inches), lending a modern, industrial look which will fit any décor in the office, living room, purse, or briefcase.
Display
The display is 8.4-inch panel, featuring 2K resolution of 2560x1600 pixels. It is an OLED display, and it essentially runs edge-to-edge. In viewing the display in action (to be showcased in another feature article), the 2K high-definition looks quite nice which should be expected with an impressive pixel density of 359ppi.
The preproduction hardware showed no apparent troubles pushing the graphics on the display, and the display showed no apparent troubles in providing smooth, fluid operation.
Processor and memory
This tablet has "Intel Inside," a Moorfield series quad-core Atom CPU. The tuning of the processor was not confirmed, but the typical range for this generation of silicon is between 1.6-2.0GHz. Memory was not confirmed, but 2 or 3GB would make sense.
A rep at the conference told us that there is 16GB of storage on the 7000 Series, but there was no official documentation on-hand, and we do not know if there will be models available with greater storage capacities. That storage is expandable via a microSD card.
Camera
The front facing camera is a 2-megapixel unit which covers all the bases for video-chat or selfies (if you like to do that with a tablet). The real differentiator are the cameras on the back.
Like the
HTC One (M8)
, the Dell Venue 8 7000 Series has not one, but
three
cameras on back. Those three cameras leverage Intel's new RealSense Snapshot Depth Camera. The main camera is an 8-megapixel unit, augmented by two auxiliary cameras that gather depth and dimensional data, much like the duo-camera set up on the M8, but also allow measurement calculations and less warped looking 3D effects.
RealSense also enables neat coloration features that look at home as if done on Photoshop. Dell has included its own photo gallery features too.
Connectivity
The initial release of the Dell Venue 8 7000 Series tablet will be a Wi-Fi only model. There was no specification noted, but we are certain 802.11a/b/g/n will be supported. We are not sure if 802.11ac is in the package, nor do we know if it is a dual-antenna that supports MIMO (multiple-in, multiple-out) signal management.
A rep did tell us that an LTE model is part of the plan for the new tablet, but no carrier support or time line was offered. Given Dell's previous product lines, LTE connectivity would likely support AT&T or T-Mobile in the United States.
Pricing and availability
Like so many newly announced products, a release date for the Dell Venue 8 7000 Series tablet has not yet been announced. The same goes for pricing, though we would not be surprised if we saw a bit of a premium on the price tag due to the premium build materials, svelte form factor, and fancy camera features.
It has been announced that it should be on sale in time for the holiday shopping season. What do you think of this sleek tablet? Will it be on your wish list this winter?