Intel interested in building Apple's A4, A5 chips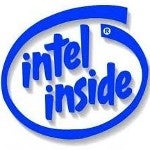 Intel says that it is interested in supplying Apple with the mobile A4 and A5 chips that the Cupertino based firm currently gets from Samsung. Although Intel makes the CPU's found inside Apple's desktop and notebook computers, the company has been designing its own ARM processors resulting in the A4, and the dual-core A5. The latter can be currently found under the hood of the Apple iPad 2, and both chips are built to Apple's specs by Samsung.
Apple is also looking at some independent foundries since it owns the designs to the A4 and A5 chips and isn't locked into a specific manufacturer. In addition, with Samsung competing against the Apple iPhone, iPod and iPad, the latter would rather keep the business out of a competitor's hand. One company that Apple was reportedly hooking up with is Taiwan Semiconductor Manufacturing Co. Apple has an interest in the yields that TSMC is getting from the production of 40 nanometer processors.
A report by Piper Jaffray analyst Gus Richard says that Intel is interested in building mobile chips for Apple and the analyst states that, "Intel's manufacturing lead gives Apple an additional competitive advantage in these markets and distances it from Asian competitors that are knocking off its products. Furthermore, it would also serve to weaken Samsung who is a significant competitive threat to both companies.''
The amalyst added that, "While it will take a few years for Apple to shift foundry suppliers, we believe Apple is shifting away from Samsung. We believe TSMC will start getting revenue from Apple in Q4 of this year. We believe the recent patent lawsuit between the two companies is further evidence to support our belief that Apple is moving its silicon needs elsewhere.''
source:
EETimes
via
AppleInsider