Intel Atom powered Lenovo IdeaPhone K900 benchmarks are astronomical
66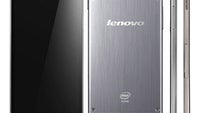 Whoa! That Lenovo IdeaPhone K900 smartphone might be a lot more capable that we originally thought. Announced and displayed during CES 2013, it comes with a 2GHz dual-core Atom chip by Intel, which, according to benchmark results, packs some serious processing punch. People who had the chance to run AnTuTu on the device got results of 25,000 points and above, with a best score (so far) in the lower 27,000's.
In comparison, the quad-core Snapdragon S4 Pro inside the
HTC DROID DNA
gets 14,000 points on average when benchmarked using AnTuTu, which is about as much as we get with the 1.6GHz Exynos 4412 inside the
Samsung Galaxy Note II
. Keep in mind that both of these use quad-core CPUs. Furthermore, while the average Lenovo IdeaPhone K900 benchmark score is already impressive, it could potentially go up even higher when a finalized version of the smartphone gets tested.
Of course, there's always the chance of these benchmark results being a forgery. But if they're not, then all chip makers using ARM-based CPUs in their designs might be in for some serious competition. It would be also interesting to see how Intel's new dual-core Atom processor compares to
Samsung's Exynos 5 Octa
, but until the latter ends up inside a smartphone or a tablet, there's no way of knowing what it's capable of in real life.
Thanks for sending this in!