Instagram just made it easier to silence the trolls
21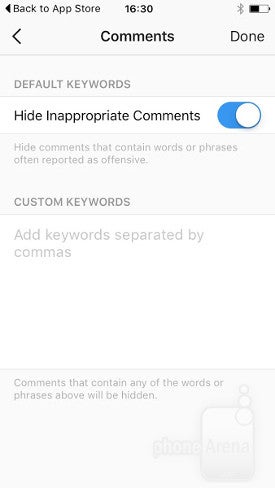 The latest version of Instagram includes a customizable filter that should help lessen spam, troll or otherwise not-nice comments. Not only can you now auto-block comments on your photos featuring words usually flagged as inappropriate, but you can also add words
you
don't wish to see for your very own, tailor-made filter.
Rolled out
to some business-related Instagram accounts
earlier this year, you now have much better control over what you see beneath your shared photos. It comes with the territory of being a massive social network that Instagram should get its fair share of user-generated bile. While it's unrealistic for Instagram to completely erase troll behavior, it's good to see that users can, to some degree, take matters into their own hands. Additionally, the blacklisting tool will make it somewhat easier to keep certain topics out of bounds within your personal space.
As you can see from the screenshot, the new feature is very simple to use. Once you've updated to the latest version of Instagram, you can get filtering to your heart's content. As a reminder, Instagram's settings also include a feature to block individual users. If you experience constant abuse from the same account, then completely blocking them may be a more appropriate course of action.
After the recent arrival of
the long-awaited zoom feature
, it's good to see that Instagram is focusing on the fundamental aspects of the experience. Like zoom, comment filtering is only available to iOS users at the moment, but should arrive to Android users very soon.