India soon ready to spy on BBM users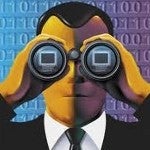 According to
India Times
, the technology needed for Indian officials to spy on BlackBerry Messenger users in the country is almost ready to be turned on. A wiretap warrant from the Union Home Ministry would still be required, but the technology
will allow Indian officials to catch unencrypted BBM messages before they go through the BlackBerry Internet Service
when it becomes too late to decipher.
BlackBerry Enterprise Servers were not a concern for the police in the country since they usually handle conversations between employees. As we told you back in January, RIM was concerned for the security of its corporate users in the country. On the other hand, the officials in the country are worried that the 256-bit encrypted data used for BBM messages can be used by terrorists. At first, RIM had objected to the "spying" since Indian officials, without a server of their own, would have had to spy on RIM's Canadian servers. But

a RIM server was added in Mumbai in February

, and while BBM messages usually are not encrypted until the ending destination of a message (RIM never gets the messages delivered to the company), the Indian government is being allowed access to whatever messages it can read, with the wiretap warrant of course.

India is worried about recent terrorism that took place in Mumbai which was

coordinated by text messages

in a timeframe too quick for police to intervene. If the plans that those plain text messages described couldn't be stopped, there is no guarantee that intercepting BBM messages will do much good. The government is expected to receive a list from mobile carriers in the country of the 5,000 BES servers in India. The carriers will also tap BBM messages and share them with the government when requested to do so

The next stop for
the Department of Telecommunications is Nokia's push email system which is similar to the BlackBerry process. Indian officials have no fear of communications made over iOS or Android models because they use standard security and can be more easily intercepted.
source:
IndiaToday
via
Electronista