In the U.S., BlackBerry has the biggest increase in customer satisfaction among smartphone producers
26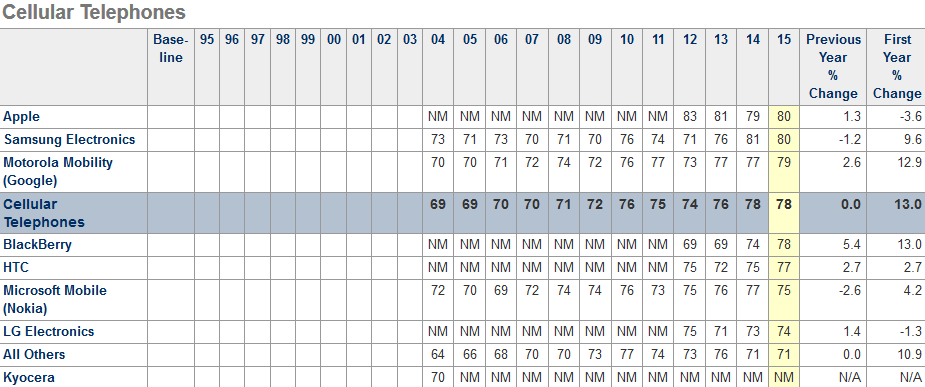 Apple and Samsung are tied for the top position in the latest ACSI survey
According to the latest American Customer Satisfaction Index, which was released yesterday, BlackBerry has the fastest rising customer service score in the U.S. among smartphone manufacturers. The 5.4% improvement in its ACSI tally should put a smile on the face of BlackBerry CEO John Chen. Since the company started to be tracked by the index back in 2012, it has had a 13% increase in its score. Apparently, the company must be doing something right.
Overall, BlackBerry's score of 78 placed it fourth in the survey. Apple and Samsung each achieved a score of 80 to tie at the top. But both are trending in opposite directions. Apple's scores since it was first listed in 2012 are 83, 81, 79 and 80. Samsung's scores those same years are 71, 76, 81 and 80. Motorola finished third with a score of 79, up 2.6% from last year.
HTC's ACSI score rose 2.7% from 2014 to hit 77. Microsoft (75 for a 2.6% drop in its satisfaction reading) and LG (74, down 1.3% for the year) finished sixth and seventh, respectively. The average cellphone company scored a customer satisfaction reading of 78, unchanged from last year.
source:
ACSI
via
BlackBerry