In London, an iPhone owner charges his phone on a train, gets busted
35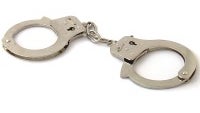 If you happen to find yourself riding the Overground trains in London, don't attempt to charge your smartphone using an outlet inside the train. You could end up handcuffed and carted off to jail. That is the situation that 45 year-old Robin Lee found himself in over the weekend. Lee either didn't see, or didn't care to see the signs on the trains' outlets stating that they are to be used by cleaning staff only. As a result, he ended up plugging his iPhone into one of these outlets. Many smartphone owners would probably have done the same thing rather than face a few hours of being "disconnected" from the world.
Lee was arrested on Friday for stealing electricity from the train. Considering that the annual cost to charge an iPhone is less than $1.50 USD, this would seem to fall under
very
petty theft. After being de-arrested, Lee was arrested again for his alleged aggressive behavior toward a police community support officer.
This is the second incident we've seen in the last week regarding an iPhone owner sticking his plug where it didn't belong. You might recall that last week,
an audience member climbed onto a Broadway stage
to plug his handset into a non-functioning outlet. The outlet was part of the set design for the show "
Hand to God
." It was later revealed that the culprit was a 19 year-old who was drunk at the time.
If you find yourself constantly looking for an outlet in the middle of the day for your iPhone, there is good news;
iOS 9 will deliver an extra hour of battery life
once it is installed on your iPhone. The new build of Apple's mobile OS will also come with a Low Power Mode that will add up to three hours of additional battery life to your iPhone by shutting down non-essential features. Hopefully, once iOS 9 is officially released, incidents like these two will disappear for good.
source:
Wired
via
SlashGear