Audience member climbs onto a Broadway set to charge his phone just before the opening curtain
13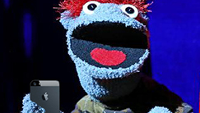 How desperate are people to charge their smartphone when the batteries are low? Consider this incident that took place last week at the Booth Theater on Broadway just before a performance of the play "Hand to God" was about to start. A gentleman with a smartphone climbed on stage and plugged his handset into a fake outlet that was part of the set.
The music that plays before the show was halted as a member of the crew had to unplug the device from the outlet. An announcement was made that audience members are not allowed to jump on stage to plug in their phones.
Cast members Sarah Stiles and Marc Kudisch both tweeted about what took place and both seemed incredulous that someone would be that upset about having no juice to run his phone, that he would disrupt a Broadway show just minutes from the opening curtain.
"At 'Hand to God' tonight I saw on audience member climb onto the stage right before the show and plug his cell phone into a (fake) electrical outlet on the set. ON. THE. SET. The crew had to stop the precook music, remove the cellphone, and make an announcement as to why you can't do that. Truly. I am a quiet and reserved person and I took great joy in loudly heckling the idiot when he returned to take his phone back. Moron. Has theatre etiquette--heck, Common Sense--[really] fallen that far??"-Chris York, audience member
By the way, "Hand to God" is about Jason, a student at the Christian Puppet Ministry in the small town of Cypress, Texas. Jason's puppet Tyrone develops his own personality and starts controlling Jason. If you do plan on seeing the show, or any Broadway production for that matter, make sure your phone is fully charged before you get to the theater. And it usually is a good idea to turn off your handset once the show starts.
Video of the audience member plugging in his phone to the fake outlet on the set has surfaced.
Thanks for the tip Michael!
source:
Playbill