Image of the Samsung GT-i6330 touch screen phone gets leaked
This article contains unofficial information.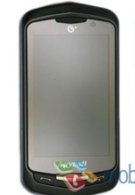 Most touch screen phones use a similar look and design with very few trailing away from the slate form factor. Every now and then there's a handset that truly has a look that's appealing and refreshing. Samsung has been known to put out a good amount of touch screen phones with some impressive AMOLED displays. Now there's a leaked photo of the Samsung GT-i6330 that has a somewhat unusual look; still making it stand out from others. First spotted in Russia, it appears that it'll probably be released in China seeing that the logo of China Mobile is noticeably present. So far little is known about this crafty looking phone, but it will support video calling thanks to the front facing camera. It's not a powerhouse in the camera department with its
3.2
-megapixel camera, but its more than enough for quick shots. Not only is the pointy top standing out at first glance, but the rear portion has a nice looking pattern design going on – now all we need is some specs and we'll be set.
via
Unwired View