Image of alleged Samsung Galaxy Note 4 retail box surfaces
30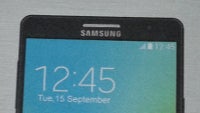 We are looking forward to Samsung taking the cover off its much anticipated Galaxy Note 4, the fourth generation in the Note series, on September 3rd at IFA in Berlin, but weeks before the big date, we're already seeing a leak of what looks like the retail box of the device.
The box that we've received in our tips inbox by an anonymous leakster differs a lot from the recycled-styled, environmentally-focused boxing of current Galaxy series devices like the Note 3 and Galaxy S5. This new box has a metallic pattern that is also suggestive of new materials that could have been used in Samsung's Galaxy Note 4 (but this could also just be a new style for the box).
What's also interesting is that the Galaxy Note 4 pictured on the box has a new wallpaper with the date September 15th on it. So far, press renders of Samsung devices like the Galaxy Note 3 show the date of the announcement, so it'd be only logical to see September 3rd on this Note 4 leak. Is this a change of policy, or a signal of some Photoshop efforts by someone out there?
It's hard to tell, but we'll keep our reservations about all this until we see more images, or any other more conclusive evidence this is indeed real. For the time being, we give you the leaked image of what's allegedly that Note 4 retail box. Take a look and let us know what you think: is this the real deal?