If you don't do this right, your third-generation Motorola Moto G could drown to death
12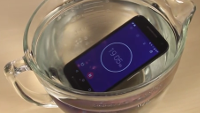 Unlike previous Motorola handsets, which used nanocoating to protect a phone from spills and light rain, the third-generation
Motorola Moto G
is actually waterproof with an IP certification of IP X7. This means that the phone can be submerged in up to 3.28 feet of water for as long as 30 minutes, and emerge unscathed. But if you plan on changing the colorful back covers on the phone, be forewarned. If you don't make sure that everything locks into place correctly, you could end up with a waterlogged paperweight.
Motorola has placed two rubber seals inside each shell (there are 10 shells available, and you get to select a color when you buy the phone). These seals are the difference between having your phone protected from water, or having it drown to death.
The bottom line is that if you do wish to customize the back of your third-generation Moto G, make sure that the back panel is snapped into place securely. Most waterproof phones have a seal around the outside. Because of the way Motorola has placed the seals inside the rear cover, it is left to the phone's owner to make sure that the seals do their job.
While it might take some more of your precious time, you certainly should double or triple check the placement of the rear shell before you expose your third-generation Moto G to water. Make sure that the center strip on the back is flush with the opening on the case (see the photos below). If not, your phone is in danger of sustaining water damage. It almost makes you wish for the nanocoating instead. While the latter won't protect you from a dunking, it would still protect you from a spill or light rain even if you don't have the rear shell placed exactly right.
source:
AndroidCentral