Ice Cream Sandwich update for the HTC Vivid starts trickling out bringing Sense 3.6
19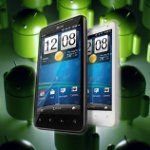 Now that the HTC Vivid is starting to see its promised Android 4.0 Ice Cream Sandwich update, which was promised to land in the coming weeks when the HTC One handsets were unveiled, things should be fine and dandy,right? Well, one would imagine that this update would also bring HTC Sense 4.0,but instead, it features HTC Sense 3.6.
Indeed, it offers some of the enhancements and features ofthe Sense 4.0 user interface, but it's not quite as polished in the visualpresentation department. Nevertheless, if it's just like the recent Android 4.0update for the Sensation, which we managed to get a preview of very recently,it should no doubt still keep handset owners very happy.
Beats by Dr. Dre audio profiles
– thus, giving HTCVivid owners the same lovable audio experience as some other handsets bearingthe Beast by Dr. Dre logo. So yeah, with Beats audio support supplementing theupdated Sense 3.6 interface running on top of Android 4.0, it should no doubtprove to reinvigorate AT&T's first HTC 4G LTE enabled smartphone.
Well, ifyou haven't seen that notification just yet, you can actually initiate theprocess by simply dialing *#*#682#*#*.
via Android Central