HTC Sensation line won't be getting the full Sense 4.0 experience, but a 'lite' one instead
33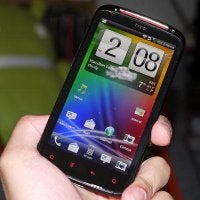 Very recently, we had the opportunity of checking out the
early access preview of Android 4.0 Ice Cream Sandwich
for the
HTC Sensation XE
, but interestingly enough, we find it boasting
Sense 3.6
as opposed to
version 4.0
. At first, it looks a bit similar to the
Sense 4.0 interface we saw running on newer devices
like the just announced HTC One X, but there are some noticeable differences.
From the sound of it all, the HTC Sensation line won't be getting the full Sense 4.0 treatment when the official ICS update goes live to the masses. Instead, it'll be sporting a '
lite
' version that will employ
some
of the key characteristics of Sense 4.0, but as of right now, there's no confirmation as to what exactly it'll consist of in the end. Moreover, HTC mentions that HTC Sense 3.6 was in development in parallel to Sense 4.0.
Before getting into a hissy fit about this new revelation, especially if you happen to own an HTC Sensation device of some kind, just remember that Sense 3.6 will be featuring most of the key Ice Cream Sandwich UI elements that should no doubt keep things fresh for owners. From what we can tell so far, the HTC Sensation XE is snappier in performance than before, which is more than likely credited to the enhancements attached with ICS as a whole. Surely enough too, it offers ICS specific features like face unlock.
For those holding dearly to a Sensation smartphone of some sort, you can expect to see the general availability of the new software sometime later this month. Thankfully, the wait won't be too long at this point for handset owners. Honestly, it makes us wonder if future lower spec'd HTC smartphones will be outfitted with Sense 3.6 instead.
source: HTC via
recombu