Ice Cream Sandwich adoption takes an upturn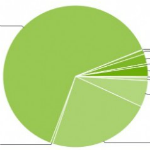 As is usual for the Android ecosystem, there has been a pretty slow adoption rate for the newest system update, Ice Cream Sandwich, but it looks like we may be getting ready for the upturn and the new numbers are showing the biggest jump yet. The updates had been moving pretty slowly, with Android 4.0 making up only 0.6% of the platform in January,
1% of the ecosystem
back in February and
1.6% last month
.
If even a few of those updates get rolled out this month, we'd expect ICS to more than double its platform presence by the time the numbers come out in May.
Of course, ICS isn't the only version of Android out there. Gingerbread is up 3.7% to 65.7% of the platform. Froyo and Eclair continued to slide, down just a bit each to 23.1% and 6% respectively.