Sony shows off impressive plans for its Android 4.0 updates
10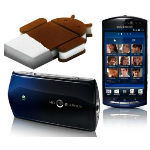 It looks like Android update season is finally starting in earnest. We've already seen the update hitting new devices and carriers, and now Sony has detailed its Ice Cream Sandwich rollout plans for its Xperia lineup. Sony has been one of the best manufacturers around with its new policy of releasing Alpha and Beta versions of the ICS update to test changes before offering the full release, and it looks like that strategy has paid off because Sony is planning to update 11 devices by mid-june.
Starting off the update rollout will be the Xperia Arc S, Xperia Neo V and Xperia Ray, and the update should start rolling out in mid-April for those devices. Then in the "late May/early June" window, Sony will be the Xperia Arc, Play, Neo, Mini, Mini Pro, Pro, Active, and the Sony Ericsson Live with Walkman as well. If Sony can pull it off, that would be one of the best 2 month stretches we've seen in the Android ecosystem.
Unfortunately, none of these updates will be OTA, and will require a tethered update. Apparently, this is because Sony wants users to make a "conscious and informed decision to upgrade." That's a somewhat strange way to phrase it, and will most certainly make for a slow rollout even if the updates are made easily available, but we'll have to see how it works out.