New Android platform statistics are out - ICS, Gingerbread show gains
14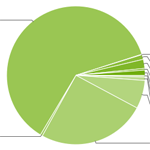 Google's monthly pie chart O' Android versions is out, and the winners are Ice Cream Sandwich and Gingerbread, with all other versions of Android losing ground. Ice Cream Sandwich grew to 1.6%, which is roughly a 60% increase over last month. That doesn't sound all that impressive, but since it's mostly
Galaxy Nexus
sales it's not too bad; with 300 million Android devices activated, that's probably more than four million units sold (depending on tablet sales).
We can probably expect those ICS numbers to start to grow more rapidly in the next month or two, as new ICS devices launch and some flagship handsets get the first wave of ICS updates. In the meantime, Gingerbread is still going strong, adding an additional
3.4
% to cover 62% of all Android devices.
Honeycomb was down a tenth of a percent, presumably as the first wave of ICS updates start to roll out to the Motorola Xoom and ASUS Transformer tablets (both the Prime and regular variety). Froyo and Éclair were both down as well, to 25.3% and 6.6% respectively.
Cupcake (Android 1.5) and Donut (Android 1.6) still reside on 1.2% of activated Android devices. Which means the two combined have fallen to less than the number of Galaxy Nexus sold in the last couple months. Yet it still seems high for versions of Android that are almost three years old. Perhaps this is just a conceit of the fast-moving smartphone industry – lots of people still use Windows XP on their desktops, and that's a much older operating system.
We know that these numbers inevitably lead to discussions on whether the data shows that fragmentation
is or isn't a problem
, but at least the numbers show that users are getting upgraded to Gingerbread or higher, even if the process is inevitably slower than we would prefer.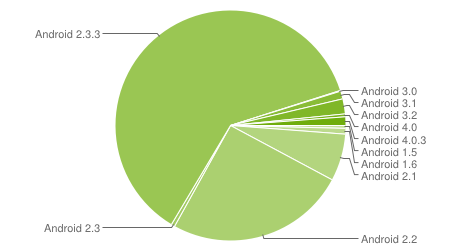 source:
Google
via
Android Central