IDC sees strong growth in smartwatch shipments for the foreseeable future, led by Apple Watch
44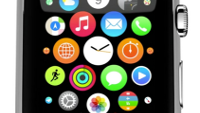 According to research firm IDC, the Apple Watch will lead the smartwatch category to strong growth over the next few years. IDC sees watchOS finishing this year with 13 million units shipped, good enough for a leading 61.3% of the global smartwatch market. Android Wear will be second with 3.2 million units delivered this year, translating into a 15.2% share. Pebble will have 1.8 million units in transit, just edging out the 1.7 million Tizen powered smartwatches that will be shipped this year.
IDC sees watchOS benefiting from Apple's large fan base and expanding selection of apps. The research firm says that "very quickly, watchOS has become the measuring stick against which other smartwatches and platforms are compared. While there is much room for improvement and additional features, there is enough momentum to keep it ahead of the rest of the market."
According to IDC, from 2015 to 2019 watchOS will grow at a compounded rate of 36.5%. That will give it 51.1% of the global smartwatch market at the end of that time period. By 2019, Apple will be shipping 45.2 million timepieces for the year.
IDC sees Android Wear growing thanks to its use by tech companies, and traditional watch makers entering the smartwatch business. From 2015-2019, the platform will see the largest compounded growth rate at 80.5%. IDC estimates that Android Wear will account for 34.3 million smartwatch deliveries in 2019, good enough for 38.8% of the world-wide smartwatch market.
Tizen is the dark horse of this race, according to the researcher, and could challenge Android Wear. Already, the OS is employed on the Samsung Gear S and Samsung Gear S2. Tizen will leapfrog over Pebble by 2019, with IDC expecting it to ship 2.5 million smartwatches that year. This will edge out the 2.3 million units that Pebble is predicted to ship in 2019.
According to IDC's wearable research manager Ramon Llamas, the smartwatch of the future will be different than today's models. They will offer cellular connectivity, health sensors and a flourishing third-party app market. IDC sees smartwatch shipments soaring from 21.3 million units in 2015, rising to 32.3 million next year. By 2019, that figure will hit 88.3 million smartwatches shipped for a compounded growth rate of 42.8% from 2015 to 2019.
"In a short amount of time, smartwatches have evolved from being extensions of the smartphone to wearable computers capable of communications, notifications, applications, and numerous other functionalities. The smartwatch we have today will look nothing like the smartwatch we will see in the future. Cellular connectivity, health sensors, not to mention the explosive third-party application market all stand to change the game and will raise both the appeal and value of the market going forward...Smartwatch platforms will lead the evolution. As the brains of the smartwatch, platforms manage all the tasks and processes, not the least of which are interacting with the user, running all of the applications, and connecting with the smartphone. Once that third element is replaced with cellular connectivity, the first two elements will take on greater roles to make sense of all the data and connections."-Ramon Llamas, Research Manager, Wearables, IDC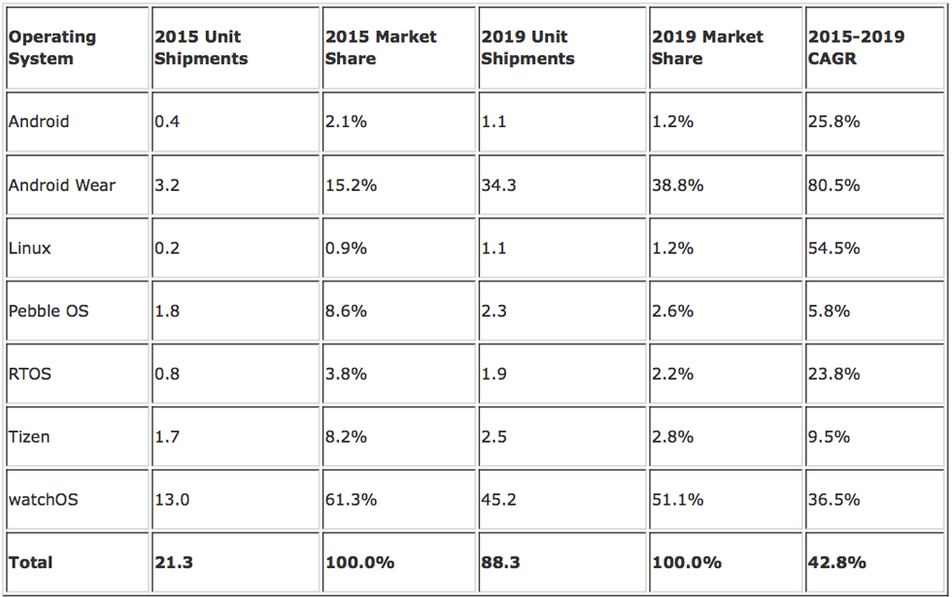 Apple's watchOS will lead the way in smartwatch shipments for the foreseeable future
source:
IDC
via
9to5Mac