IDC releases mobile phone manufacturer numbers for Q3 2008
3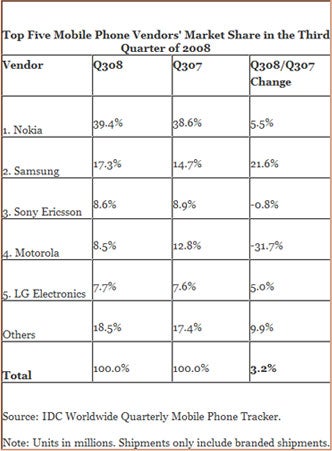 IDC has announced the mobile phone manufacturer market share numbersfor Q3 2008. While Nokia continues to lead with a global market share of 39.4%, Samsung, in second place with 17.3%, shows the most remarkable gain: 21.6% over Q2 2008. This gain came largely at the expense of third and fourth placed Sony Ericsson and Motorola, who lost 0.8% and 31.7% respectively as compared to Q2 2008. LG is in fifth place.
A detailed chart of the market share of the top 5 manufacturers is set out on the right.
The IDC report also
confirms
that Apple is now the sixth-largest global vendor by volume and third by revenue.
source:
RCR Wireless
via
Engadget Mobile