IBM launches enterprise-level security service for mobile devices
2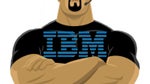 Once upon a time it was pretty easy for corporate IT departments to secure the smartphones of their employees. You simply limited them to choosing a Windows Mobile or Blackberry device, which had enterprise security features already built in.
Alas, Windows Mobile is now an artifact of history, and by
last count
less than 1/5 U.S. smartphones is a BlackBerry. As Android and iOS smartphones and tablets dominate the ecosystem, IT departments have been scrambling to try and manage the security on the new devices.
Enter IBM's Hosted Mobile Device Security Management service. The service includes a security app that installs on a phone or tablet, as well as management tools that allow an IT department to track, wipe, set permissions, and check for compliance with security protocols.
Even better, the new service works with not just iOS and Android, but BlackBerry, Symbian, and Windows Mobile devices. So once a company deploys the security service, there will be able to manage all of their employees phones within a single environment.
IBM has announced that it is partnering with Juniper Systems to provide the device management portion of the service. Similar products are available from companies like Lookout and Enterproid, although so far none have had the enterprise chops to which IBM can lay claim.
source:
TechCrunch