Samsung's Infinity-O display patents reveal the eventual Galaxy S10 design, hole to be drilled with lasers
16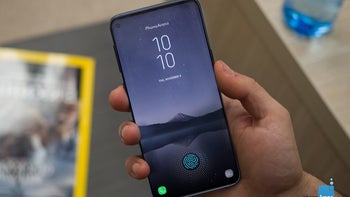 The World Intellectual Property Office (WIPO) in the Hague has an interesting Samsung entry in its database that will now be automatically accepted in 70 countries as a unique design patent.
Unearthed by
LetsGoDigital
, most of the design sketches depict a phone with a hole in the display that will house the selfie camera which differ in the way their corners are rounded. Given that the
Galaxy S10
is heavily rumored to employ exactly such a design (Samsung calls it
Infinity-O
), these might be the approaches Samsung will take with the various S10 models' designs.
The fun part is that on most of these images, the hole-in-display camera is placed at the left, except on the J-L schematics which are said to be of a separate design patent filing. How will Samsung manage to pierce through the OLED display and still show uninterrupted imagery around the Hole In Active Area (HIAA) concept?
Korean media is
reporting
that it will be employing laser drilling between the OLED deposition and thin-film encapsulation (TFE) processes. The process is more challening to do with Samsung's flexible OLED displays that use plastic instead of glass substrate, as the hole's circumference has to be sealed separately against oxygen and moisture to prevent LED deterioration.
Still, if anyone could do it easily, Samsung wouldn't be unique in employing it on its signature flexible OLED screens, and the Galaxy S10 is an anniversary edition of the famed S-line that needs to be unique.