Huawei signs up Superman and Scarlett Johansson to promote the P9
32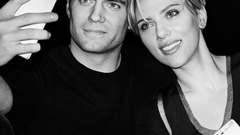 Yesterday,
Huawei officially unveiled
the metal-made
P9
and
P9 Plus
, two brand new Android handsets that promise to "reinvent smartphone photography" - thanks to a dual lens rear camera co-engineered with German optics and camera maker Leica.
Most relevant gadget manufacturers tend to promote their newest devices with the help of famous people, so Huawei is doing it, too. To market the P9, Huawei signed up... Superman. More exactly, we're talking about British actor Henry Cavill, who portrays Superman in Man of Steel (2013) and the follow-up movie Batman v Superman: Dawn of Justice (2016). Appearing next to Henry Cavill in the first Huawei P9 commercial - embedded below - is Scarlett Johansson, known for her roles in movies like Lost in Translation, or The Avengers.
The Huawei P9 will be available this month in various markets around the world, for prices starting at around $599 (or €599 in Europe). Its larger brother, the Huawei P9 Plus, should be released sometime later. It remains to be seen if Scarlett Johansson and Henry Cavill will help Huawei selling tons of these.
Until we get the chance to review the two new smartphones, you can find out more about them by checking out our
Huawei P9 specs
page and
Huawei P9 Plus specs
page.