Huawei 'ready to amaze the world again' with an Android device promo using… an iPhone with Siri?
27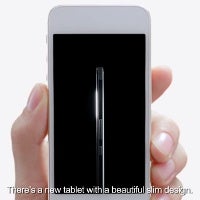 Ah, Huawei! One of China's most successful phone companies is trying to make a name for itself in the West and get traction with some of its devices. To do so, it will introduce at least three new devices at the Mobile World Congress in Barcelona in just a few days, but it has chosen to tease them with one of the weirdest videos you can imagine.
The weirdness starts when you see a hand holding an obvious iPhone look-alike running an obvious Siri clone. Nope, that's not an Apple commercial, and yes, Huawei is indeed about to introduce Android devices, but why is it using an iPhone with a Siri to promote them? This is just one of a few questions you won't get an answer to in this video.
What you will learn, though, is that a new tablet with a beautiful slim design is coming, and its huge battery should give you days of use. Second, a smartphone with an amazing front camera is about to arrive on the market, but that's about as deep a detail as you get on it. Third and last, a new multimedia tablet that gives the ultimate entertainment experience (whatever that means) is coming too. It can 'even support the next generation LTE network' (but unfortunately, that next-gen LTE network is in use by only a handful of carriers).
The teaser does not go into much detail on any of those devices, at least not enough to have us excited about any of them, but strangely enough, it assumes that those three 'amazing' devices have left a mark on our heart. At this point, it brings the question: "what are they: fruit or somesong?" Literally: "fruit or somesong". Nope, we guess they are made by Huawei, which is ready to 'amaze the world again'.
Count us shocked rather than amazed by this strange teaser, but hey, let's hope for the best. We are already packing our bags and are on our way to Barcelona in just a few days, where we'll give you a hands-on look on all the latest from the show, including these three Huawei creations.
source:
Huawei Device