Huawei looks to the future with new bezel-less design patent
7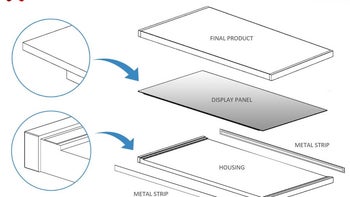 So far this year, the
Huawei P20 line
represents the closest Huawei has gotten to a bezel-less design. Nevertheless, the company is still aiming to innovate when it comes to smartphone designs, and one of its most recent patents details exactly how.
The patent in question, which was only filed back in February, describes a unique build process that would allow
Huawei
to do away with any unnecessary side bezels. Instead of using the typical device frames that are featured on current smartphones, the Chinese company would start off the overall build with the rear panel, that itself has been designed to accommodate the display. Once manufactured, the display would be placed on top of the panel and sealed down with adhesive, with this then being sandwiched in by two metal strips on either side, which ultimately replace current smartphone frames. The result? An extremely high screen-to-body ratio.

In addition to the design advantages, Huawei notes that the process won't bring any compromises either. In fact, due to the use of high-quality adhesives, smartphones can continue to be water and dust resistant, while any potential bends in the construction are avoided thanks to the use of high-strength materials in the rear panel.
It's presently unclear when
the company
plans on introducing the design process to its smartphones but, despite Huawei's claim of no disadvantages, the fact that the side strips are only stuck on with adhesive suggests it could potentially be a weak point in the device's design if dropped or damaged.