Huawei TalkBand B1 arrives in the U.S.
9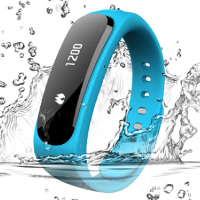 Huawei's first smartwatch is now available in the U.S. The Huawei TalkBand B1 can be purchased from GetHuawei.com, Newegg.com, Amazon.com and Fry's Electronics for $129.99. The device tracks your sleep, counts your steps and even computes the number of calories that you have burned. The band will even make sure that you are in the light cycle of your sleep when waking you with its smart alarm.
The Huawei TrackBand B1 features a pop out earpiece for voice calls, and can pair with Android (
2.3
or later) and iOS (5.0 or later) powered smartphones. NFC is used for quick syncing with a phone, and the wireless earpiece uses Bluetooth 4.1. Thanks to the 90mAh battery, you can use the earpiece for seven consecutive hours. The TrackBand B1 comes with a bendable
1.4
-inch OLED display.
The only color available at the moment is Henry Ford's favorite, black. Other color options will be coming down the road. The Huawei SmartBand B1 is a smartwatch,
fitness tracker
and a Bluetooth headset all in one, which means that you don't have to buy three separate devices.
source:
AndroidGuys