Update: Huawei P40 Pro graphene battery might be fake news
15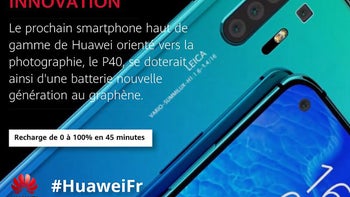 The
Huawei P40 Pro
might be the first smartphone in the world equipped with a brand new type of a battery cell made out of graphene, a revolutionary material that promises significantly faster recharge times, as well as better endurance and smaller physical size of the battery cell. At least that is the information that official regional Huawei account, Huawei France, tweeted recently (the tweet was pulled just moments after we spotted it, but we managed to grab screenshots).
Even though the tweet is in French, it's not hard to understand the words "graphene" and "batterie" even if you don't speak the language.
***Update:
Leaker @IceUniverse well known for his scoops on Samsung devices, has chimed in to this story by
saying that "this is a technology that is currently impossible"
and flat out rejecting what Huawei France has tweeted. We were originally unsure about this and had concerns about Huawei France using a fan concept render of the P40 Pro in their tweet (mentioned below), so there are definitely multiple red flags here.
Keep in mind that rumors about a graphene battery seem to originate from a source in India under the name
Yash Raj Chaudhary who tweeted about this on December 8th
and that tweet might be the source of all the confusion, going as far as to fool the person behind the Huawei France account.
End of update.***
And here is the entire text from the image accompanying the tweet translated into English:
The next flagship Huawei smartphone geared towards photography, the P40, will come with a next-generation graphene battery
In the tweet itself, Huawei France says that "Huawei will be the first company to introduce a flagship phone with a graphene battery." We also see highlighted in white a promise to deliver a full 0 to 100% recharge in just 45 minutes.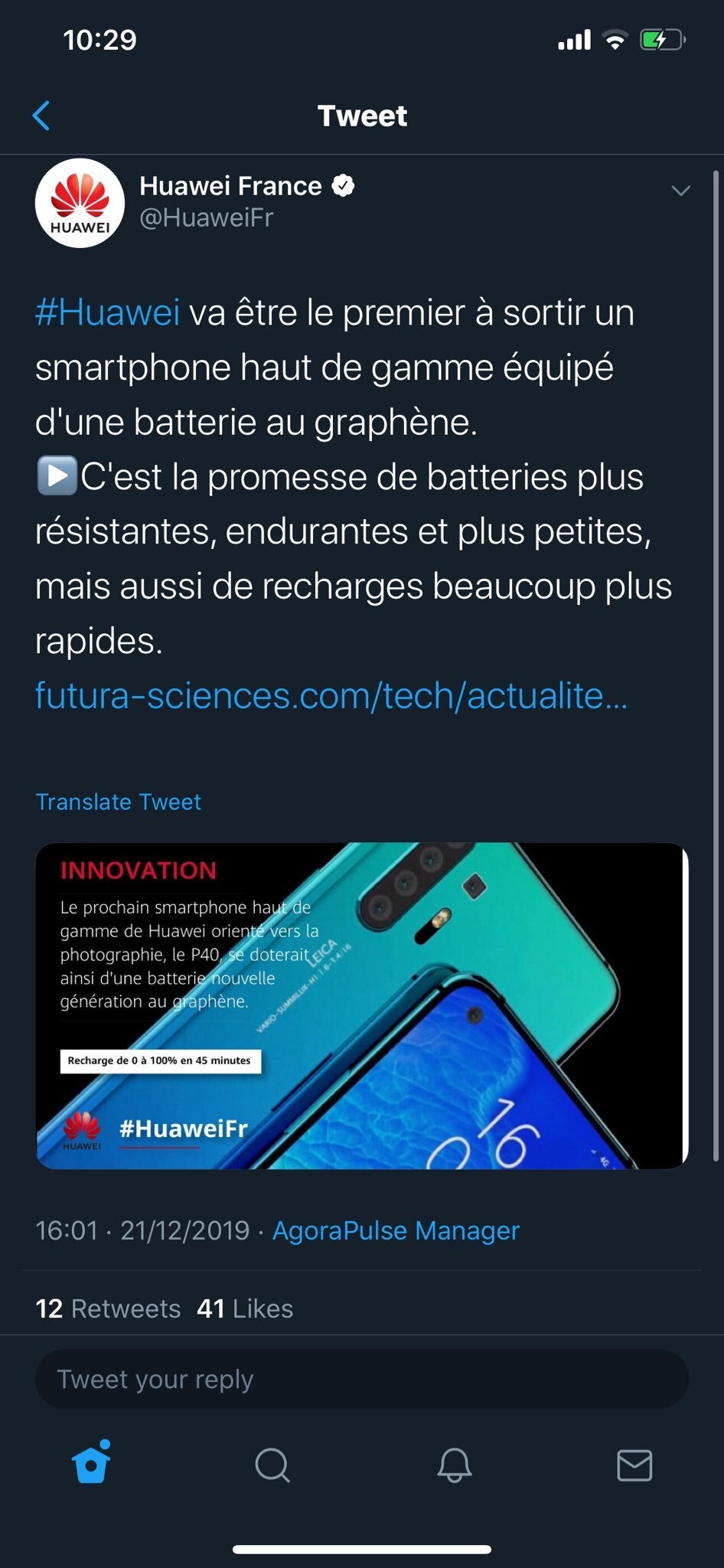 Previous rumors have pointed out that the Huawei P40 Pro battery capacity might reach 5,000mAh, but because of the use of graphene the battery cell itself might be 30% smaller than a conventional Li-Ion battery.
How certain are we that this will happen? Having an official Huawei account confirm this is definitely reassuring, but we couldn't help but notice that it also uses a concept render of the P40 Pro that might not have anything to do with reality, so we would still take this information with a grain of salt.
The BIG question around the P40 Pro
Of course, the big question around the upcoming Huawei flagship is not just about its specs, it's about whether it will support Google services. The Huawei Mate 30 Pro was the first phone to fall under a US Government ban that forbids it from using Google services, and the phone never launched in Western Europe, a big market for Huawei. If Huawei does not get any sort of an exemption for the P40 Pro, chances are that it will be another phone that will sell mainly in China and in few other places.