Alleged Huawei P20, P20 Plus, and P20 Pro designs leak out, triple cameras everywhere
42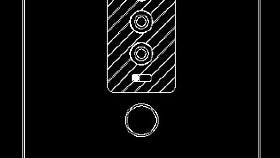 In the last three years, Huawei released P8, P9, and P10series of smartphones, so we're now expecting the company to introduce a P11family. However, this might not happen. According to a few leaked imagesoriginating from China,Huawei's next generation P-series handsets should be called P20.
Said images show schematics that allegedly reveal theoverall design of three new Huawei P20 smartphones - a regular P20, a P20 Plus,and a P20 Pro. Apparently, all three handsets will offer triple rear cameras(though positioned differently). According to a previous report, Huawei'supcoming triple rear camera will have a resolution of 40 Megapixels, and "5xhybrid zoom" - in theory, this should be a great camera, but it remains tobe seen if it can outclass other high-end smartphone cameras.
It looks like the Huawei P20 and P20 Plus will have prettysimilar designs, with fingerprint scanners on the front, and triple cameraspositioned asymmetrically on the back (horizontally on the P20, and verticallyon the P20 Plus). Most probably, the two handsets will differ in size.
As for the Huawei P20 Pro, this has a higher screen-to-bodyratio, a notch à la iPhone X, and a fingerprint scanner on the back, belowits centered triple camera.
It's said that the P20 and P20 Plus will be powered by Kirin970 processors (just like the already announced Huawei Mate 10 and Mate 10 Pro), while the P20Pro should feature a new and slightly more powerful Kirin975 processor. All three new handsets should offer 6 GB of RAM, and at least 64GB of storage space.
Huawei could announce the P20 series at MWC 2018 (February 26- March 1). We're looking forward to seeing exactly what the company has instore for us. Until then, we have to keep in mind that the info and the images inthis article should be taken with the proverbial grain of salt, as there's noway to verify their authenticity.
Recommended Stories