Huawei Mediapad M3 hands-on: small in size, big on sound
7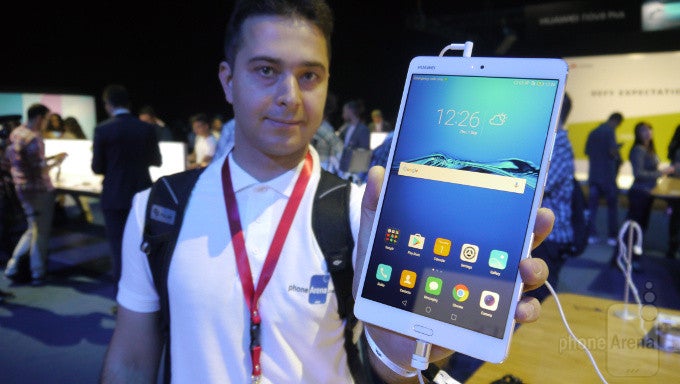 The
Huawei Mediapad M3
is a new tablet with a strange form factor and a few interesting ideas that make it stand out. Huawei has made this one to help you 'celebrate your senses' and believes it is just what the tablet market needs. Chief executive Richard Yu confirmed his personal love for the size and overall features of the Mediapad M3. With such high expectations, let's see what the Huawei Mediapad M3 is all about.
First of all, the Huawei Mediapad M3 is an 8.4-inch tablet with a sharp display, a stylish and thin metal build, and a focus on powerful performance and sound. All of that at a fairly affordable price.
Design and display
A peculiar form factor and a good-looking, vivid screen
The big focus with the Mediapad M3 has been to polish any rough edges in terms of design and deliver an ergonomically curved metal body that would fit comfortably in the hand. The tablet is narrow when you hold it in portrait orientation and given the fact that there is a dialer app built-in you might think you could hold it wiht one hand just like a phone. It's not a phone, of course, it lacks an earpiece, plus it's a bit too big to hold in just one hand (unless you have a really big hand). However, in the world of tablets it would definitely be one of the most ergonomic ones that we've handled.
The 8.4-inch display features rich colors and it makes no compromise in terms of sharpness with a resolution of 1600 x 2560 pixels (that works out to a pixel density of 359ppi). Huawei made sure to throw a few punches at Apple saying the pixel density is 10% better on the Mediapad M3 than on the Apple iPad mini 4.
Interface
Huawei is using its custom Emotion user interface on all of its mobile devices, and the Mediapad M3 is no exception. The Emotion UI, or EMUI for short, is a deep overhaul of the Android visual style and aesthetics. Material Design is practically absent, replaced with a distinct visual style with rounded icons that is easily remembered. There is no app drawer here either, as an influence from Apple's iOS is felt in a few places.
The Mediapad M3 uses on-screen buttons, but these are not your usual keys: a new system allows you to set custom actions for a short tap, long tap, as well as a swipe on each of the three navigation keys for expanded functionality. Huawei also touts a new 4-in-1 finger gesture navigation as a neat way to navigate around the tablet.
Big on sound
Despite its small physical size, the Huawei Mediapad M3 is big on sound: it comes with dual speakers and they are able to pump out loud tunes that would do well for gaming and even for those times you are too lazy to hook up the tablet to your home stereo.
Huawei has also partnered with audio specialists from Harman Kardon to provide some clever audio tuning and improve the quality of the sound coming from the headphones. We took a listen shortly at the loud Huawei booth at IFA and the quality was definitely not bad, but we'll reserve our more detailed judgement for our final review coming in the future.
Performance and battery life
You might care much less about specs these days, but a solid system chip under the hood is definitely felt in often subtle ways during daily use. The Huawei Mediapad M3 might not have the very fastest silicon, but its Kirin 950 system chip will definitely stand its ground well. In our short time with the tablet, we noticed its smooth performance and those typical for Huawei's software fluid transitions and practically no stutter.
In terms of purely technical details, the HiSilicon Kirin 950 system chip features an octa-core setup with four battery-savvy Cortex A53 CPU cores and four performance-driven Cortex A72s. It's all manufactured on a modern, 16nm process, making the chip more compact and adding to its thermal efficiency.
In terms of battery life, we're yet to do in-depth battery testing, but what we know is that the Mediapad M3 is equipped with a decently-sized 5,100mAh battery that provides video playback time of 11 hours.
Price and expectations
All in all, the Huawei Mediapad M3 gets a lot right: it's got a good-looking display, a very sleek design, it does not feel underpowered in any way, and has the added bonus of very good sound. It also kills it in terms of price: €350 in Europe (if it ever comes to the U.S., this should translate to $35) for a 32GB Wi-Fi only model with expandable storage sounds like a very good deal. For €400, you can also get a 32GB LTE model or a 64GB Wi-Fi model, while €450 gets you a 64GB LTE version. If you can deal with Android's sub-par selection of apps compared to Apple's tablet ecosystem, this is definitely excellent value.