Huawei Mate 9 hands-on: meet the new dual-camera phablet
20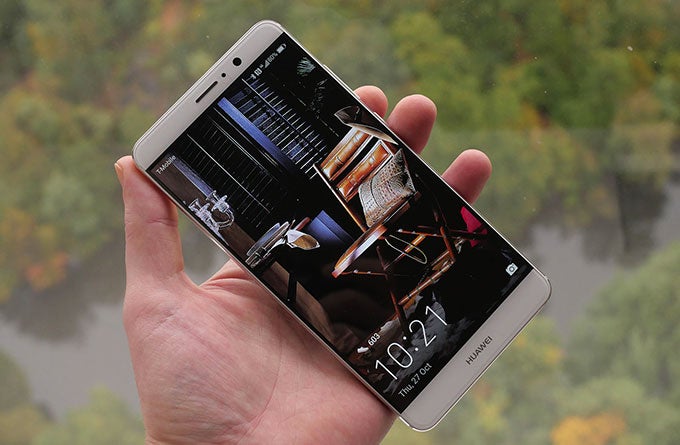 Smartphones may comes in lots of shapes and sizes, but mainstream larger phones – those we affectionately dub "phablets" – have mostly settled in on the 5.5 to 5.7-inch space. And while that's clearly big enough for many users, as we see in the success of devices like the iPhone Plus series, or the Galaxy Note family, some users crave bigger and bigger handsets, still – and for them, Huawei's happy to step up with its Mate phones.
Last fall,
Huawei introduced us to the six-inch Mate 8
, running the company's own Kirin 950 processor and armed with either 3 or 4GB of RAM. It was a pretty well-done handset, looking and feeling great, while offering some nice battery life, and while we had a few issues with the display, UI, and camera performance, the whole package was really promising, getting us excited for what might come next.
For weeks now,
we've been tracking rumors of Huawei's next Mate device
– or devices, with sources pointing to both a new Mate 9
and an upgraded Mate 9 Pro model
with higher-res screen and extra storage. Today Huawei's finally making its new hardware official, and we get to spend some hands-on time with the Mate 9 phablet.
The new Mate 9 is very close to the size of last year's model: same 7.9mm thickness. Height and width measurements come in a little larger, but only to the tune of a millimeter or two. Screen size drops ever so slightly from 6.0 to 5.9 inches, but the Mate 9 keeps the same 1080 x 1920 resolution as the Mate 8.
Processing power gets a boost thanks to
the brand-new Kirin 960 chip
, an octa-core component running at up to 2.4GHz, and now 4GB of RAM is standard. Huawei makes the smart move of upgrading base storage to 64GB, and support for microSD expansion (at the cost of dual-SIM support, should you take that route) lets users push that limit further. There's another 4,000mAh battery present, for hopefully day-long usage, and the rear-mounted fingerprint scanner makes a return.
Maybe the most obvious upgrade with the Mate 9 is the phone's new imaging hardware, now a dual-camera Leica system like we already saw on the Huawei P9. For the Mate 9, it offers a high-res 20MP monochrome sensor that works together with a 12MP full-color sensor in order to produce a merged output. The cameras support optical stabilization, and take advantage of a three-way hybrid auto-focus mode for crisp, clean shots.
Around front, there's an f/1.9 8MP selfie cam that supports auto-focus – a bit of a luxury for a front-facer.
The Mate 9 runs Huawei's latest incarnation of its Emotion UI, the new version 5.0, based on Android 7.0 Nougat. That allows for some neat cross-over between Google and Huawei's feature sets, like using screen-knock knuckle gestures to tap into Nougat's split-screen multitasking. Huawei tells us that its goal for EMUI 5.0 was simplifying how we use our phones, doing things like using machine learning to anticipate app needs and let users access 92% of their most-used apps with just two taps. Those smarts also extended into CPU management for balancing performance and battery life, as well as compressing RAM to squeeze in more apps and improving the state of phone storage with app cleanup and defragmentation.
We've only been able to spend some brief time with the Mate 9 so far, but our full review should be coming soon. For now, check out our initial hands-on interaction below, as well as a gallery of Mate 9 photos.