Huawei Mate 8 hands-on: a high-end phablet worthy of attention
20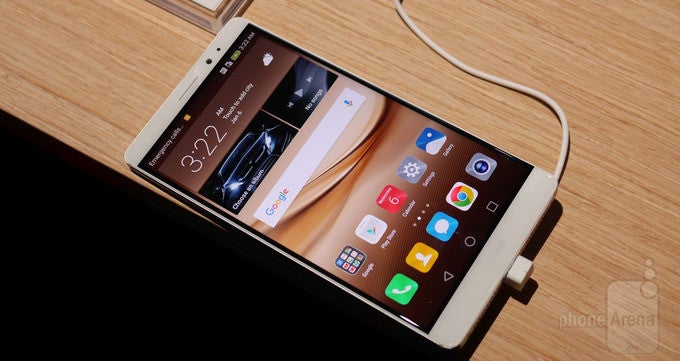 Huawei is no stranger to making good Android smartphones, and the rise of the company's popularity among consumers proves it. A 9.7% global smartphone share is, indeed, a considerable figure. To succeed in the high-end segment, however, being good is not enough. It takes a truly great device to stand firmly at the top of the food chain, and the Huawei Mate 8 could be just that. Officially announced back in November, the phablet is now on display here at CES 2016, so we gave it the hands-on treatment without hesitation.
Design
The Huawei Mate 8 is one of those phones that give you a positive impression the very moment you pick them up. Arguably, its design is its strongest asset, being a phone that blends premium looks, slim construction, and a killer scree-to-body ratio. Just holding it alone, the handset reminds us of the styling we've seen employed in the Nexus 6P – sans the hump over the camera module, of course. That metal build helps to elevate and exemplify the Mate 8's thin profile, which is incredible given the fact a beefy 4000 mAh battery is housed inside.
As far as size goes, anyone who's into big phones would be intrigued by the Huawei Mate 8. The phone is quite the beast, which doesn't come as a surprise given the 6-inch diagonal size of its display. This definitely isn't a phone suitable for every user and every pocket, but if you're okay with a phone of, let's say, the
iPhone 6s
Plus' width and height, the Mate 8's size shouldn't be an issue. At 185 grams, this is far from the lightest smartphones around, but it doesn't feel heavy either, presumably due to its weight distribution.

Taking a look at the back of the device, we see the Mate 8's main camera protruding slightly alongside a dual-tone LED flash. Below it is located a fingerprint reader, which is not difficult to feel with a finger thanks to its recessed design. There are two grilles at the bottom of the Huawei Mate 8, behind which are placed a microphone and a loudspeaker. That connector in the middle is of the Micro USB variety. None of that USB Type-C stuff here.
Display
Seeing 1080 by 1920 pixels spread across a 6-inch diagonal size might seem odd, especially to one who's been around Android phones for a while. After all, screens of higher resolutions at smaller diagonals have been around for a while now. But Huawei's decision to stick with good ol' 1080p has its benefits, among them being that the phone's GPU won't have too much pixels to drive. Besides, 367 pixels per inch are enough for a pleasurable viewing experience, and our eyes do agree with that.
The IPS LCD panel exhibits wide viewing angles and great color saturation, making us wonder for a moment if it isn't an AMOLED screen we're looking at. In any case, the Mate 8's display looks gorgeous despite the far-from-groundbreaking
pixel
density. Enriching the experience is the commendable screen-to-body ratio, as the screen nearly goes
edge
-to-edge. For a 6-incher, it doesn't really look or feel like one.
Processor, memory, and performance
Kirin 950 – that's the name of the SoC ticking inside the Huawei Mate 8. It is an octa-core chip packing four 2.3GHz Cortex-A72 cores and four 1.8GHz Cortex-A53 cores, doing the heavy lifting and lightweight tasks respectively. Meanwhile, a Mali T880 GPU handles the graphics. Huawei did point out that while the SoC is fast, it is also 70% more power-efficient thanks to its 16nm build process. Special attention has been given to the handset's design to provide great heat dissipation, which in turn should reduce the need for processor speed throttling. Technical details aside, the Mate 8 demo unit we have our hands on runs swiftly, as a phone of this class should, although further testing will be needed on our side to evaluate the phone's capabilities.
It is important to note that Huawei is launching two variants of the Mate 8 – there's one with 3GB of RAM and 32GB of storage, then there's another packing 4GB of RAM and 64GB for the user's files. Naturally, the luxury of having those extra gigs in the latter comes at a higher price. Still, both models accept microSD cards in the slot shared with the secondary SIM card. In other words, storage expansion won't be an issue, unless you demand having two Nano SIMs in the Mate 8.
Interface
The Huawei Mate 8 is an Android phone at its core, and one of the very few running the newest Android 6.0 Marshmallow right out of the box. But the software is quite far from its purest form, as it has the EMUI interface layered on top of it. More than a few things look and feel different as a result – there's the absence of an app drawer, core applications have been replaced with Huawei's own interpretations, the option to apply visual themes is available, and a single-hand mode can be activated easily at any time.
Camera
At the CES event, Huawei spent quite some time highlighting details around the Mate 8's camera, and for a good reason. The main shooter is a promising one, or at least that's the impression one may get judging by its specs – a 16MP Sony IMX298 sensor with f/2.0 aperture, phase detection auto-focus, and 3-axis optical image stabilization. Jumping into the camera app, we're greeted by a familiar interface with a rather simple layout. Digging into the menus and options, however, we do find plenty of tricks, including manual control over the image being taken. The front-facing camera is an 8MP one, featuring a Sony IMX179 sensor and f/
2.4
lens aperture, in case you're wondering.
Battery
Seeing that a 4000mAh cell is fitted inside the phone, we have high hopes for the Huawei Mate 8's battery life. Huawei's own data goes in line with our expectations – we're promised 17 hours of HD video, 98 hours of music playback, 20 hours of 4G browsing, or 28 hours of 3G calling on a single charge, which are all impressive figures. With normal use, the Mate 8 should last over 2 days between charges, and if used heavily, we should still be able to get over a day and a half of usage out of it. And when it is finally time for a recharge, the Mate 8 supports fast charging at up to 2 amps at 9 volts.
Expectations
The Huawei Mate 8 is shaping up as an Android phone without any weaknesses, or at least not any that we could notice during our brief hands-on experience with the device. It has the hardware, software, design, and battery life to stand its ground firmly, even among a number of fearsome high-end competitors. But all this comes at a price, and the Mate 8 won't be cheap. The phone's price starts at €599 for the 3GB/32GB model, and the 4GB/64GB variant costs €100 extra. In other words, Huawei's phablet costs about as much as offerings from its rivals, such as Apple, Samsung, and LG. Still, the Huawei Mate 8 is not a phone to be underestimated, as it could be well worth of its price.