Huawei Mate 30 Pro vs iPhone 11 Pro vs Galaxy Note 10+ vs Pixel 3: EXTREME Low-Light Camera Test
57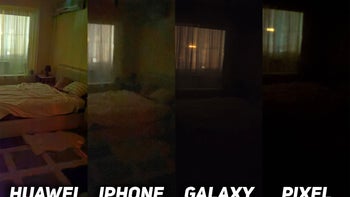 As we are working on our review of the Huawei Mate 30 Pro and testing its cameras, we were once again taken aback by some of the superpowers that only Huawei phone cameras possess and we wanted to share this with you.
We first saw this feature on the Huawei P30 Pro earlier this year and its present on the new Mate 30 Pro as well: we're talking about these phones' ability to create a bright image in a pitch black environment where the human eye can barely see shapes.
Let us stress it once again: we say "create" those images because that amount of light is simply not visible to the human eye.
To capture the shots below we used the regular camera mode, we did not even use the Night mode. And yes, we should also say that this is technically a level of darkness where you usually would not even toy with the idea of taking a photograph, but with the Huawei phones taking a photo in this conditions is possible. It's not a realistic photo (it gets much brighter than reality), but it is possible and as Huawei has mentioned it might be useful when you want to take a picture of your sleeping child without them noticing, for example. But enough with the explanations, let's take a look at the pictures:
Scene 1
This might not be the most inspiring of photos, but notice just how incapable other phones are of capturing a photo in such darkness. We have used the night mode on the iPhone 11 Pro, the Galaxy Note 10+ and Night Sight on the Pixel 3.
Scene 2
Yet another example of how the Huawei Mate 30 Pro is able to capture a photo in pitch black conditions, when the human eye can barely see.
Stay tuned for our in-depth comparisons between the new Huawei Mate 30 Pro, the iPhone 11 Pro and the rest in a series of articles coming up soon!